2021-01-01 16:48:29
Seattle, WA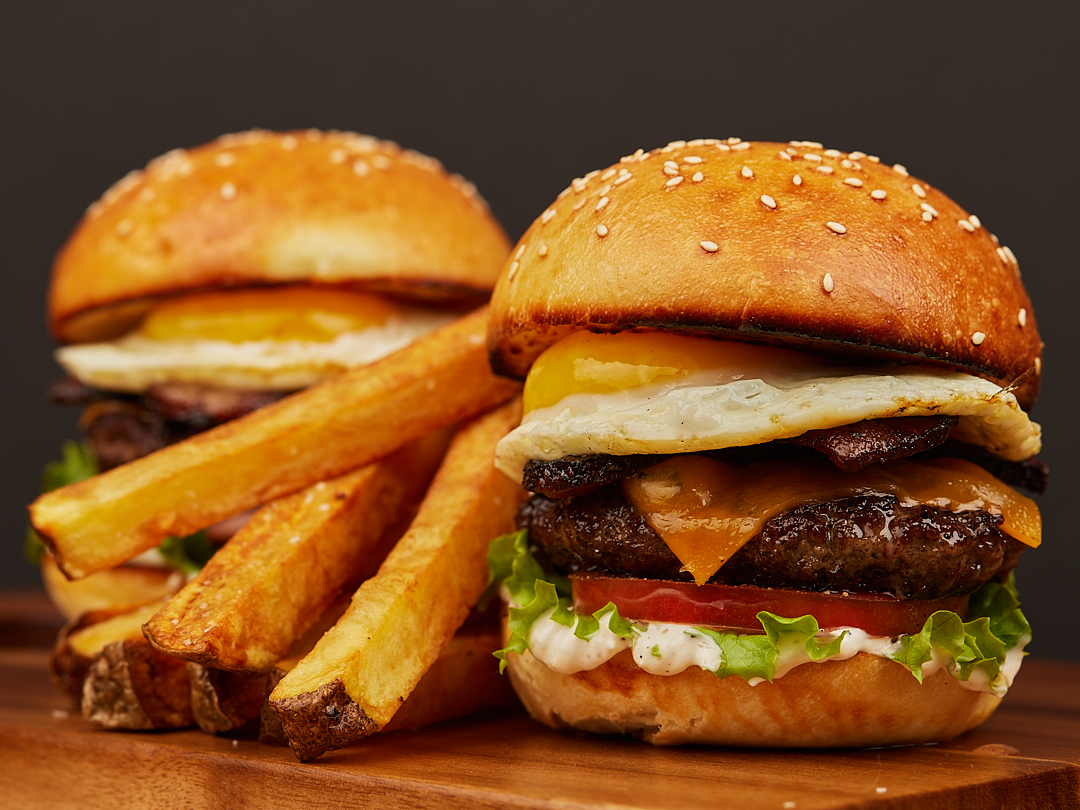 Ingredients
| Amount | Ingredient | Calories | Link |
| --- | --- | --- | --- |
| 1 lbs. | Ground Beef | 1068 | Buy Fresh! |
| 1 whole | Egg | 78 | Buy Fresh! |
| 1/4 lbs. | Bacon | 605 | Buy Fresh! |
| 4 oz. | Cheddar Cheese | 2124 | Buy Fresh! |
| 4 oz. | Tomatos | 12 | Buy Fresh! |
| 1 oz. | Green Leaf Lettuce | 4 | Buy Fresh! |
| 4 tbsp. | Mayonnaise | 243 | |
| 1 cloves | Garlic Clove | 203 | Buy Fresh! |
| 1/8 tsp. | Kosher Salt | 0 | |
| 1/8 tsp. | Black Pepper | 1 | |
| 1 oz. | Lemon Juice | 4 | Buy Fresh! |
| 1 whole | Hamburger Bun | 128 | Buy Fresh! |
Preparation
We love a good burger and continuously experiment with new ingredients to find combinations we enjoy eating. This bacon cheeseburger with a fried egg recently made our short list of favorites. Below is our version, enjoy.
First we'll make the Aioli sauce. In a small bowl mix the mayonnaise, garlic clove, kosher salt, freshly ground black pepper, and lemon juice. Once incorporated keep refrigerated until ready to serve. This period of time will also allow the flavors to develop.
Next we'll prepare the bacon. Cook thick cut bacon over medium heat until done. We prefer our bacon chewy rather than crispy. Set aside on a paper towel to remove any excess grease until ready to plate.
When ready to serve fry the burger until your desired temperature is reached. We use freshly ground beef from our local butcher and cook to medium rare. We always recommend cooking beef per the USDA recommended safe guidelines. When done let the beef rest and fry your egg sunny side up.
Now we assemble the burger. Slice a freshly baked hamburger bun in two and toast both pieces. Next place a generous spoonful of Aioli sauce on the bottom bun. Next we add green leaf lettuce followed by the tomato, beef patty, cheddar cheese, thick cut smoked bacon, fried egg, and finally the top bun. Serve with your favorite sides and enjoy!
Nutrition
We made 4 burgers out of this recipe and estimate the total amount of calories to be about 4,280.

Recommended Serving Size: 1/2 burger (Approximately 535 cal.)
Total Servings: Approximately 8
Items Used
Below are a few of the items used to create the finished result. The curated items below and ingredients above have been carefully selected and represent what we believe to be the best balance between quality and cost.