2021-01-15 12:23:36
Seattle, WA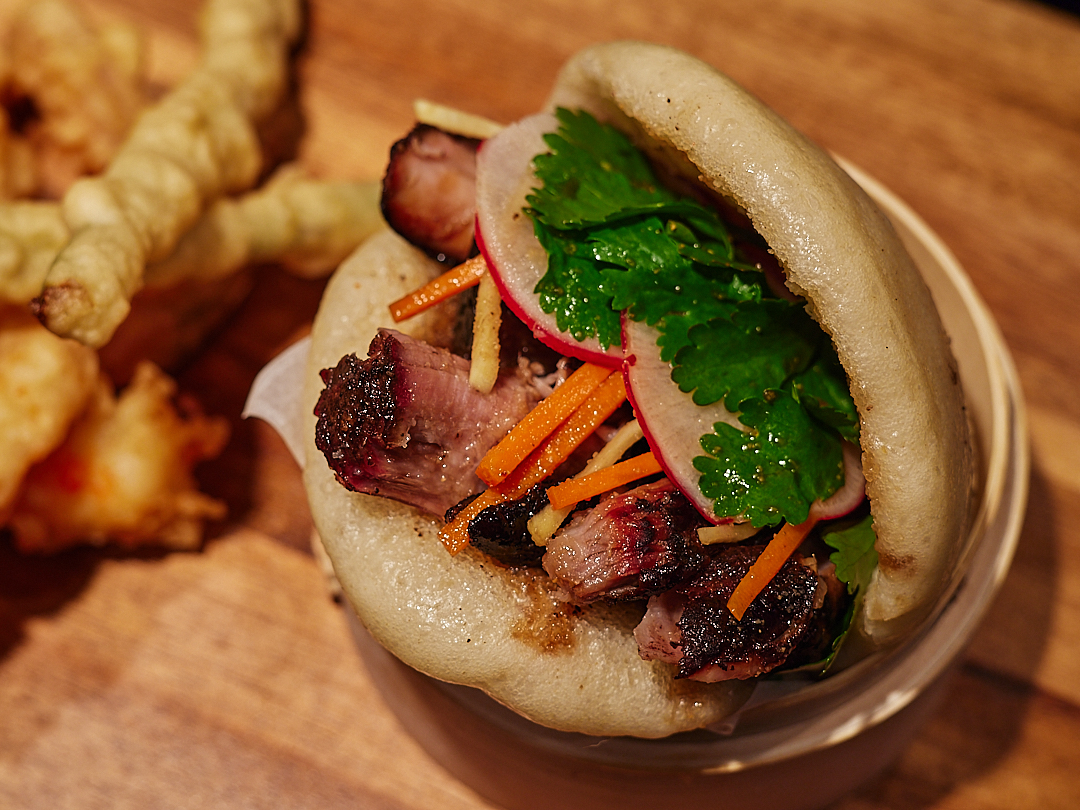 Ingredients
| Amount | Ingredient | Calories | Link |
| --- | --- | --- | --- |
| 1 lbs. | Pork Shoulder | 1217 | Buy Fresh! |
| 1 tbsp. | Kosher Salt | 0 | |
| 1 tbsp. | Black Pepper | 19 | |
| 1 tbsp. | Garlic Powder | 13 | |
| 1 tbsp. | Onion Powder | 25 | |
| 1 tbsp. | Paprika | 20 | |
| 4 oz. | Carrots | 43 | Buy Fresh! |
| 4 oz. | Radish | 5 | Buy Fresh! |
| 4 oz. | Cilantro | 1 | Buy Fresh! |
| 4 oz. | Ginger | 73 | Buy Fresh! |
| 2 tbsp. | Sugar | 96 | |
| 1/2 tsp. | Kosher Salt | 0 | |
| 1 tsp. | Instant Dry Yeast | 13 | |
| 2 tbsp. | Olive Oil | 239 | |
| 1 tbsp. | Rice Vinegar | 3 | |
| 1 tsp. | Baking Powder | 4 | |
| 4 1/4 cups | All Purpose Flour | 2045 | |
| 2 tbsp. | Honey | 129 | |
| 1 tsp. | Gochujang | 19 | |
| 1 tbsp. | Soy Sauce | 8 | |
| 1 tbsp. | Garlic Clove | 13 | Buy Fresh! |
| 1 tbsp. | Ginger | 19 | Buy Fresh! |
Preparation
One of our favorite meals includes BBQ pork shoulder smoked over hickory wood. Add freshly steamed bao to the mix and we have a family favorite.

In a mixing bowl add the kosher salt, freshly ground black pepper, garlic powder, onion powder, and paprika. Mix well and generously season the pork shoulder.

We'll want to cook the pork shoulder low and slow. This will result in a juicy, fork tender pork that will knock your socks off! Use any grill or smoker and heat it up to 225 °F. Smoke with hickory wood chunks for 8-12 hours until a temperature probe or fork is able to pierce the pork with very little resistance. Once ready remove from heat and allow to rest for at least 30 minutes.

Once rested slice or pull apart bite size chunks of pork to top with your freshly made bao buns.

Garnish with fresh cilantro, radish, pickled carrot, and pickled ginger.
Bao Buns
In a large mixing bowl sift together the flour, white sugar, and salt.

In a separate bowl or measuring cup dissolve the instant dry yeast in 1 tablespoon of warm water with a 1/2 teaspoon of sugar. When dissolved add in the milk, 200 grams of water, light olive oil, and rice vinegar. Pour the mixture into the flour and mix the dough, adding a little extra water if needed (2-3 tablespoons).

Place the dough onto a lightly floured work surface and knead for 10-15 minutes until the dough is smooth. We used a stand mixer with a dough hook, however, this dough could be easily done by hand. When dough is smooth, place it in a lightly oiled bowl and cover with a damp cloth. Let the dough rise for 2 hours or until doubled in size.

Place the dough onto a clean working surface and flatted it down using your hands. Sprinkle baking powder over the dough and knead for an additional 5 minutes.

Roll the dough into a long tube shape with a 1-inch thickness. Cut the dough into 18 pieces that are about 1 inch wide. Using the palm of your hands roll each piece of dough into a ball and let them to rest for about 3 minutes.

Using a rolling pin roll each ball into an oval shape about 1/8 inch thick. Brush the surface of the dough with olive oil and brush a little oil over a chopstick. Place a chopstick in the middle of the dough and fold the dough over the chopstick. Slowly pull out the chopstick.

Cut out 18 squares of parchment paper. Place each pre-shaped bun on a parchment paper. Place your buns on a baking tray, cover with a tea towel and let it rise in a warm place for about 1 hour, or until doubled in size. The buns should look puffy and have a nice shiny coat.

Pre heat the Anova Precision Oven using the following settings.
Step 1 - Pre Heat
Heating Elements: Bottom
Sous Vide Mode: Off
Temperature: 212 °F
Steam: 100%
Once the Anova Precision Oven reaches temperature steam the bao buns for 12 minutes.
Step 2 - Bake With Steam
Heating Elements: Bottom
Sous Vide Mode: Off
Temperature: 212 °F
Steam: 100%
Time:
12 Minutes
Prise open each bun and fill with BBQ pork. Top it with your favorite toppings and serve warm.
Nutrition
A 3 ounce portion of pork shoulder is about 229 calories. Add the bun, garnish, and sauce for another 171 calories.

Recommended Serving Size: 1 pork bao bun (Approximately 400 cal.)
Total Servings: Approximately 43
Items Used
Below are a few of the items used to create the finished result. The curated items below and ingredients above have been carefully selected and represent what we believe to be the best balance between quality and cost.