2021-01-24 10:08:17
Seattle, WA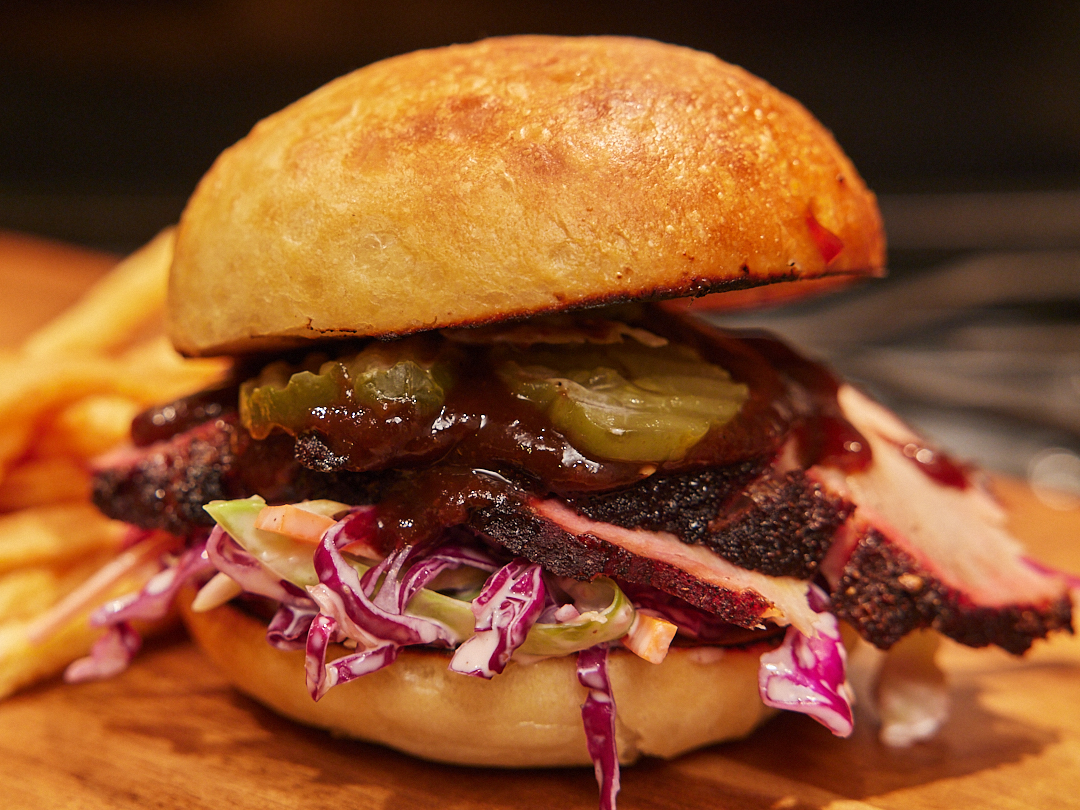 Ingredients
| Amount | Ingredient | Calories | Link |
| --- | --- | --- | --- |
| 8 lbs. | Pork Shoulder | 9736 | Buy Fresh! |
| 1 tbsp. | Kosher Salt | 0 | |
| 1 tbsp. | Black Pepper | 19 | |
| 1 tbsp. | Garlic Powder | 13 | |
| 1 tbsp. | Paprika | 20 | |
| 1 tbsp. | Onion Powder | 25 | |
| 1 cup | Balsamic Vinegar | 484 | |
| 1 cup | Ketchup | 242 | |
| 1/3 cup | Brown Sugar | 225 | |
| 2 tbsp. | Maple Syrup | 105 | |
| 1 tbsp. | Worcestershire Sauce | 13 | |
| 1 tbsp. | Dijon Mustard | 15 | |
| 1/2 tsp. | Garlic Powder | 3 | |
| 1/2 tsp. | Black Pepper | 4 | |
| 1/2 tsp. | Kosher Salt | 0 | |
| 6 oz. | Dill Pickles | 19 | Buy Fresh! |
| 1 cup | Cole Slaw | 291 | Buy Fresh! |
| 2 whole | Hamburger Bun | 256 | Buy Fresh! |
Preparation
Two of our favorite things include the BBQ and pork. Below is our version of the sliced BBQ pork sandwich. First we will start by making the rub. In a mixing bowl add the kosher salt, black pepper, garlic powder, paprika, and onion powder. Mix well then generously season the pork shoulder with an even coating of rub. When complete set aside and fire up the smoker.

We want to cook the pork shoulder low and slow to preserve the tenderness, juiciness, and build up that amazing hardwood smoky flavor. To achieve this we'll want to set a target temperature of 225°F and cook the pork shoulder for 8-12 hours until done or approximately 205 °F. More on that later.

For the first 2-3 hours we will cook with smoke. We used hickory since we love and enjoy the flavor profile, however, the choice is up to you. We cook the pork until pull apart tender. We know at the 205 °F mark we are getting close to done plus or minus a few degrees. We use a temperature probe to poke the pork shoulder and if it pierces through effortlessly like going into a stick of warm butter then we know it's done. Remove from heat and allow to rest. Some like to wrap, however, we don't since we like to keep that bark nice and crispy.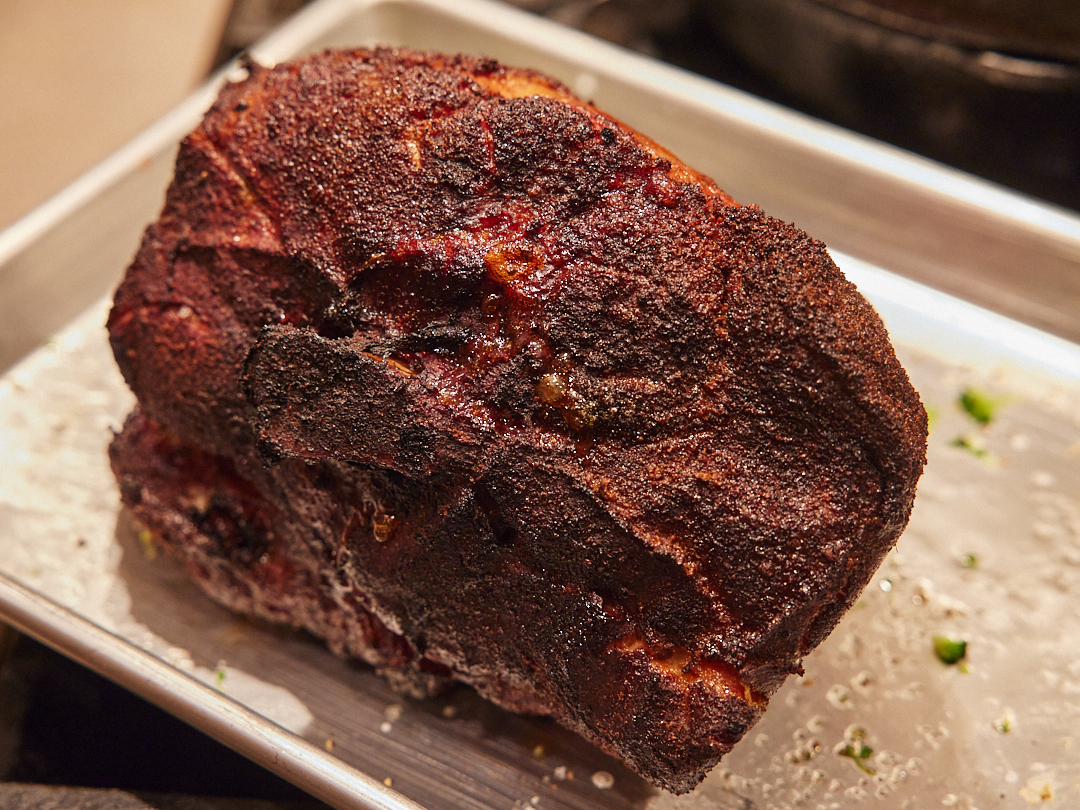 While the pork shoulder is in the BBQ we will prepare the BBQ sauce. In a sauce pan add the balsamic vinegar, ketchup, brown sugar, maple syrup, Worcestershire sauce, Dijon mustard, garlic powder, black pepper, and kosher salt. Bring to a simmer over medium heat stirring frequently to avoid burning the bottom of the sauce pan. With the sauce simmering, lower the heat until all ingredients are incorporated and the sauce is smooth. Season to taste.

When ready to serve we will build the sandwich. Toast a hamburger bun with a light coating of butter. Pile on coleslaw, sliced BBQ pork shoulder, add some sauce, then pickles, and finally the top bun. Serve and enjoy!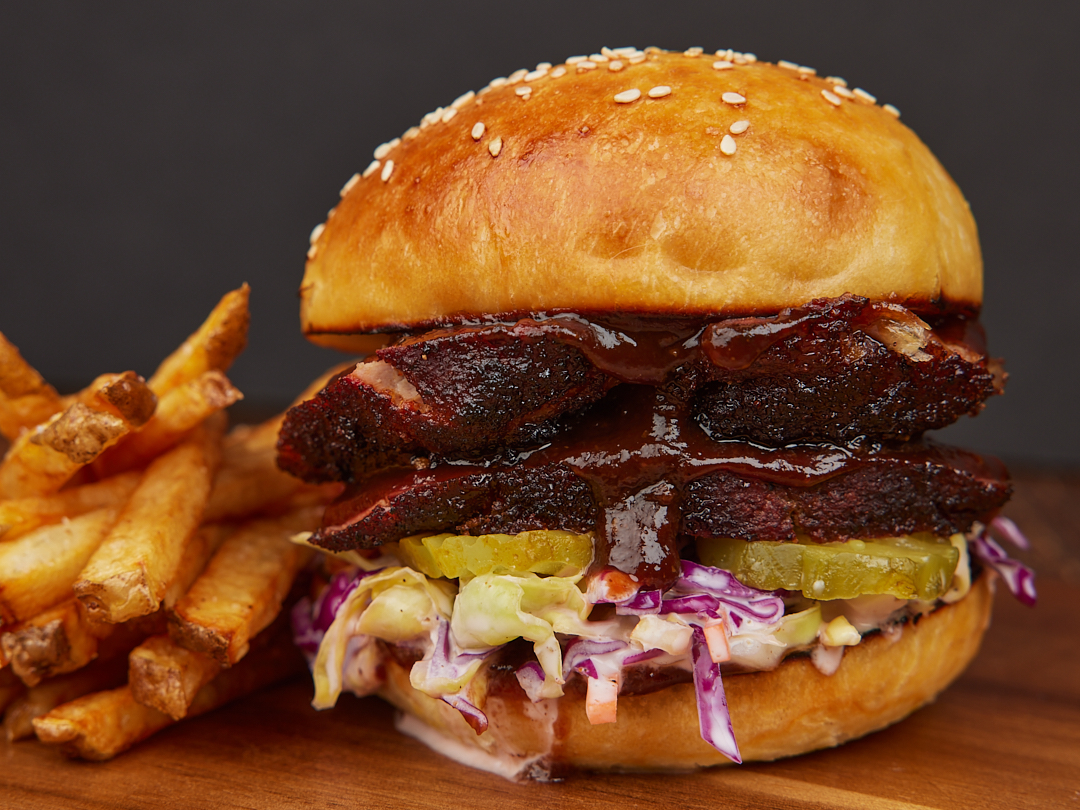 Nutrition
A single sandwich is approximately 1095 calories.

Recommended Serving Size: 1/2 sandwich (Approximately 548 cal.)
Total Servings: Approximately 4 with tons of leftover BBQ pork.
Items Used
Below are a few of the items used to create the finished result. The curated items below and ingredients above have been carefully selected and represent what we believe to be the best balance between quality and cost.