2020-09-15 09:17:39
Seattle, WA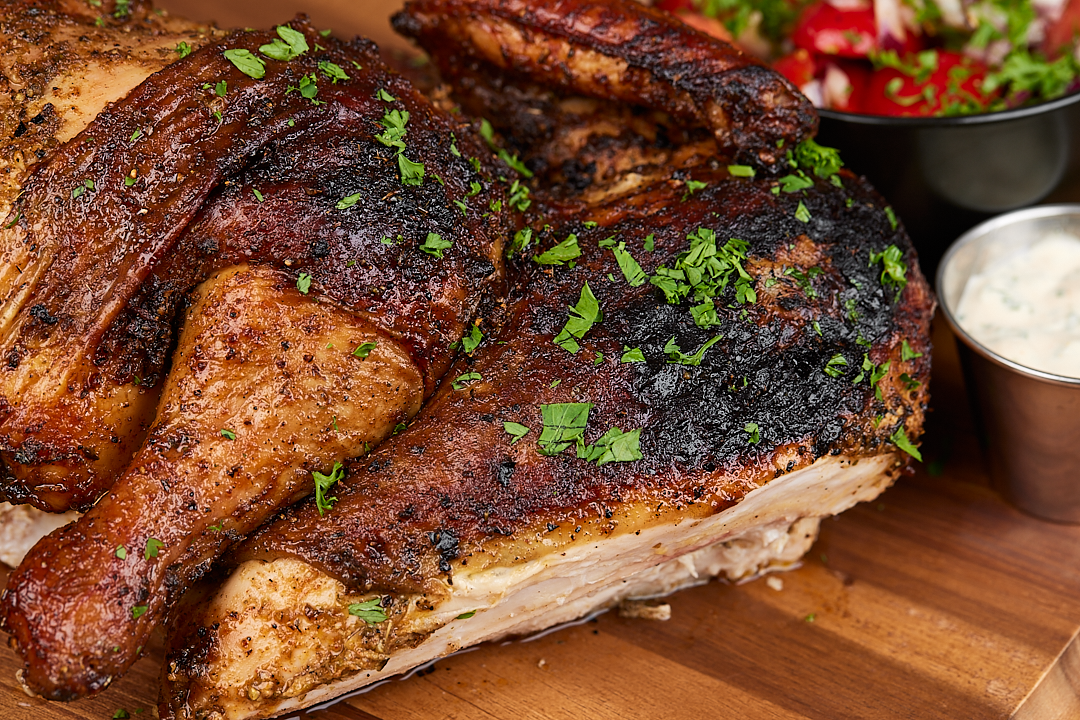 Ingredients
| Amount | Ingredient | Calories | Link |
| --- | --- | --- | --- |
| 4 lbs. | Chicken | 4048 | Buy Fresh! |
| 4 tbsp. | Lime Juice | 15 | Buy Fresh! |
| 4 tbsp. | Mint Leaves | 4 | Buy Fresh! |
| 3 tbsp. | Olive Oil | 358 | |
| 1 tbsp. | Garlic Clove | 13 | Buy Fresh! |
| 1 tbsp. | Kosher Salt | 0 | |
| 1 tbsp. | Black Pepper | 19 | |
| 1 tbsp. | Ground Cumin | 24 | |
| 1 tbsp. | Brown Sugar | 43 | |
| 2 tsp. | Paprika | 13 | |
| 2 tsp. | Oregano | 10 | |
| 2 tsp. | Lime Zest | 1 | Buy Fresh! |
| 1 tsp. | Habanero Chile | 1 | Buy Fresh! |
Preparation
This Peruvian roast chicken gets its bold exotic flavors from a thick paste made from fresh ingredients. Place the fresh mint, olive oil, chopped garlic, salt, fresh ground black pepper, ground cumin, brown sugar, paprika, oregano, and lime zest into a food processor. Blend until a smooth paste forms.
Pat the chicken dry. We spatchcocked the chicken, however, a whole chick will roast equally well. Using your fingers or the handle of a wooden spoon gently loosen the skin covering the breast and thighs. Place half of the paste under skin, pressing on the skin to evenly distribute the paste. Spread the remaining paste over entire exterior surface of the chicken. Cover the chicken with the aluminum foil and refrigerate for at least 1 to 6 hours.
Roast the chicken in an oven or smoker at 300 °F until an internal temperature of 155 °F is reached. We used the grill with apple wood. When done remove from heat and allow the chicken to rest for 5-10 minutes. Carve as desired and serve with your favorite sides.
Parings
This dish pairs perfectly with a Sauvignon Blanc or Chardonnay. If you prefer a red wine you can't go wrong with a Pinot Nior.
Nutrition
Chicken is a healthy and nutritious meal. Each 3 ounce serving is only 190 calories so if you decide to eat a second or even third serving the impact of doing so will be relatively low. The sauce is approximately 29 calories per 2 tablespoons.

Recommended Serving Size: 3 oz. with sauce (Approximately 219 cal.)
Total Servings: Approximately 16 per chicken (5 pound chicken).
Items Used
Below are a few of the items used to create the finished result. The curated items below and ingredients above have been carefully selected and represent what we believe to be the best balance between quality and cost.