2021-03-17 07:55:39
Seattle, WA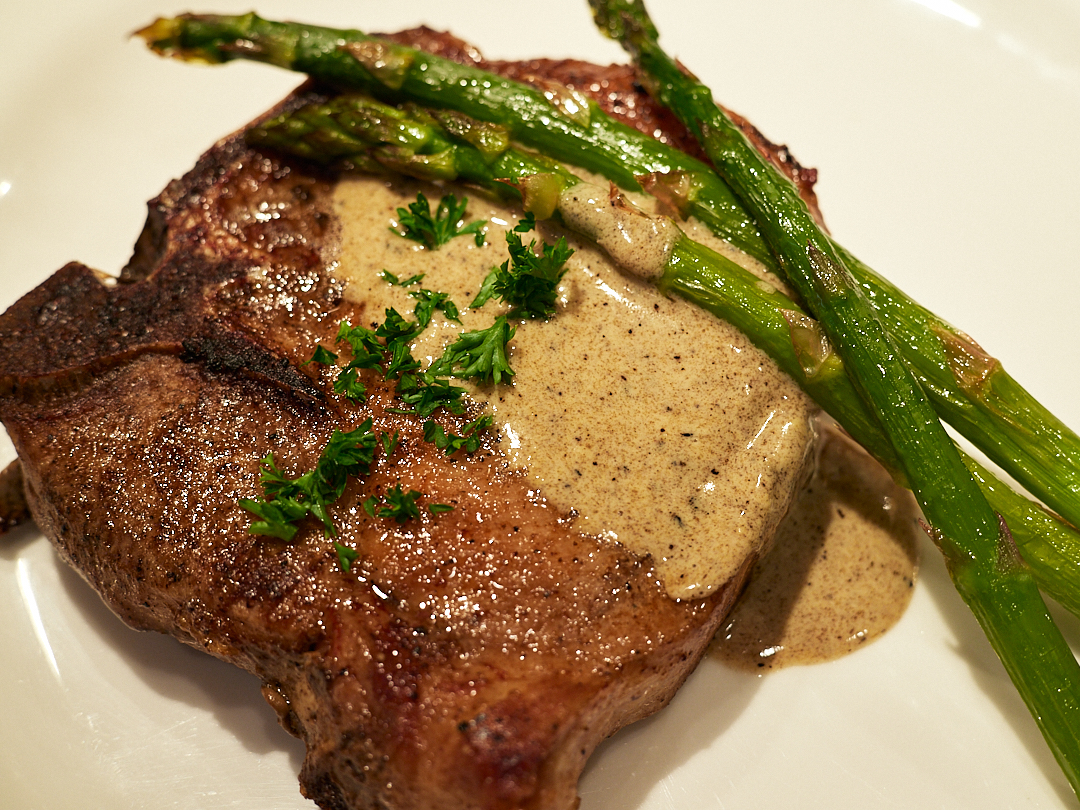 Ingredients
| Amount | Ingredient | Calories | Link |
| --- | --- | --- | --- |
| 1 1/4 lbs. | Pork Chops | 1304 | Buy Fresh! |
| 1/4 tsp. | Kosher Salt | 0 | |
| 1/4 tsp. | Black Pepper | 2 | |
| 1/4 cup | Salted Butter | 408 | Buy Fresh! |
| 1/2 cup | Heavy Cream | 477 | Buy Fresh! |
| 1/8 tsp. | Kosher Salt | 0 | |
| 1/8 tsp. | Black Pepper | 1 | |
Preparation
Season the pork chops with kosher salt, freshly ground black pepper, and garlic powder. Pre-heat the oven to 400 °F.
In a large cast iron skillet heat 2 tablespoons of avocado oil over a medium-high heat. When the oil begins to smoke sear both sides for a minute then reduce the heat and add in 1 tablespoon of butter. When the butter begins to melt baste the pork chops on both sides until golden-brown.
Place the skillet in the oven and roast until the pork chops are cooked through. Transfer the pork chops to a plate and allow to rest for 5 minutes. Meanwhile, prepare the sauce. Deglaze the cast iron skillet by adding salted butter and heavy cream. Once incorporated, season to taste with salt and freshly ground black pepper. Serve and enjoy.
Nutrition
One pork chop served with 1 tablespoon of sauce is approximately 611 calories.

Recommended Serving Size: 1 porkchop and 1 tablespoon of sauce (Approximately 611 cal.)
Total Servings: Approximately 2
Items Used
Below are a few of the items used to create the finished result. The curated items below and ingredients above have been carefully selected and represent what we believe to be the best balance between quality and cost.