2021-03-26 23:04:50
Seattle, WA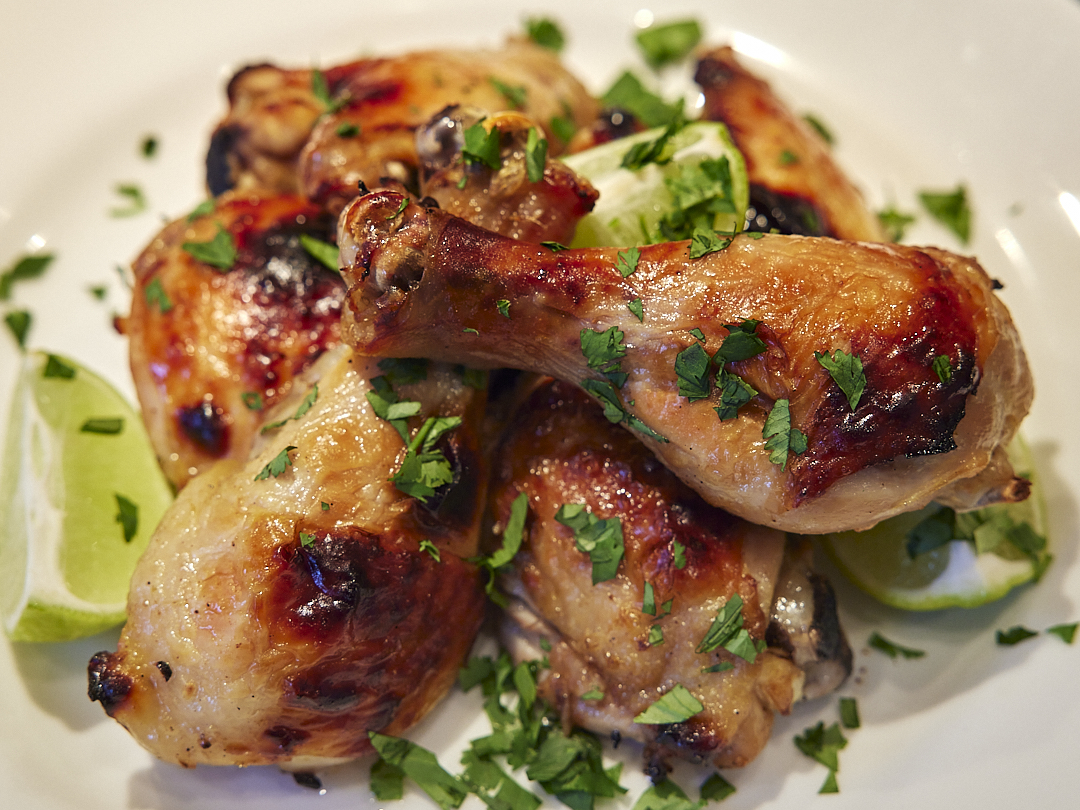 Ingredients
| Amount | Ingredient | Calories | Link |
| --- | --- | --- | --- |
| 1 lbs. | Chicken Leg Quarters | 1013 | Buy Fresh! |
| 1/2 tsp. | Kosher Salt | 0 | |
| 1/2 tsp. | Garlic Powder | 3 | |
| 1/2 tsp. | Black Pepper | 4 | |
| 3 tbsp. | Olive Oil | 358 | |
| 1 tbsp. | Sriracha | 19 | |
| 1 tbsp. | Rice Vinegar | 3 | |
| 1/2 tbsp. | Fish Sauce | 4 | |
| 1 tsp. | Sugar | 16 | |
| 2 tbsp. | Lime Juice | 8 | Buy Fresh! |
| 1 tbsp. | Ginger | 19 | Buy Fresh! |
| 2 tbsp. | Cilantro | 1 | Buy Fresh! |
Preparation
In a large container or a mixing bowl combine olive oil, Sriracha, rice vinegar, fish sauce, lime juice, grated ginger, kosher salt, garlic powder, and freshly ground black pepper. Place chicken leg quarters in the marinade and coat evenly. Cover the chicken legs and allow to marinate for 5-10 minutes. Transfer the chicken onto a wire rack placed over a baking sheet. Configure the Anova Precision Oven using the settings below.
Step 1 - Pre-Heat
Heating Elements: Rear
Sous Vide Mode: On
Temperature: 160 °F
Steam: Off
Once the oven is preheated, place the chicken leg quarters in the oven and cook for 50 minutes.
Step 2 - Cook
Heating Elements: Rear
Sous Vide Mode: On
Temperature: 160 °F
Steam: Off
Time:
50 Minutes
Remove the chicken from the oven and brush with olive oil to help with crisping.
Step 3 - Sear
Heating Elements: Top
Sous Vide Mode: Off
Temperature: 482 °F
Steam: Off
Time:
10 Minutes
Return the chicken to the oven and sear until the skin is golden brown, approximately 10 minutes. Once done remove the chicken leg quarters from the oven and allow to rest for 5 minutes before serving. Serve chicken leg quarters with chopped cilantro and lime wedges. Enjoy!
Nutrition
A 4 ounce serving of chicken leg quarters is approximately 362 calories.

Recommended Serving Size: 4 oz. (Approximately 362 cal.)
Total Servings: Approximately 4
Items Used
Below are a few of the items used to create the finished result. The curated items below and ingredients above have been carefully selected and represent what we believe to be the best balance between quality and cost.