2020-09-19 10:36:15
Seattle, WA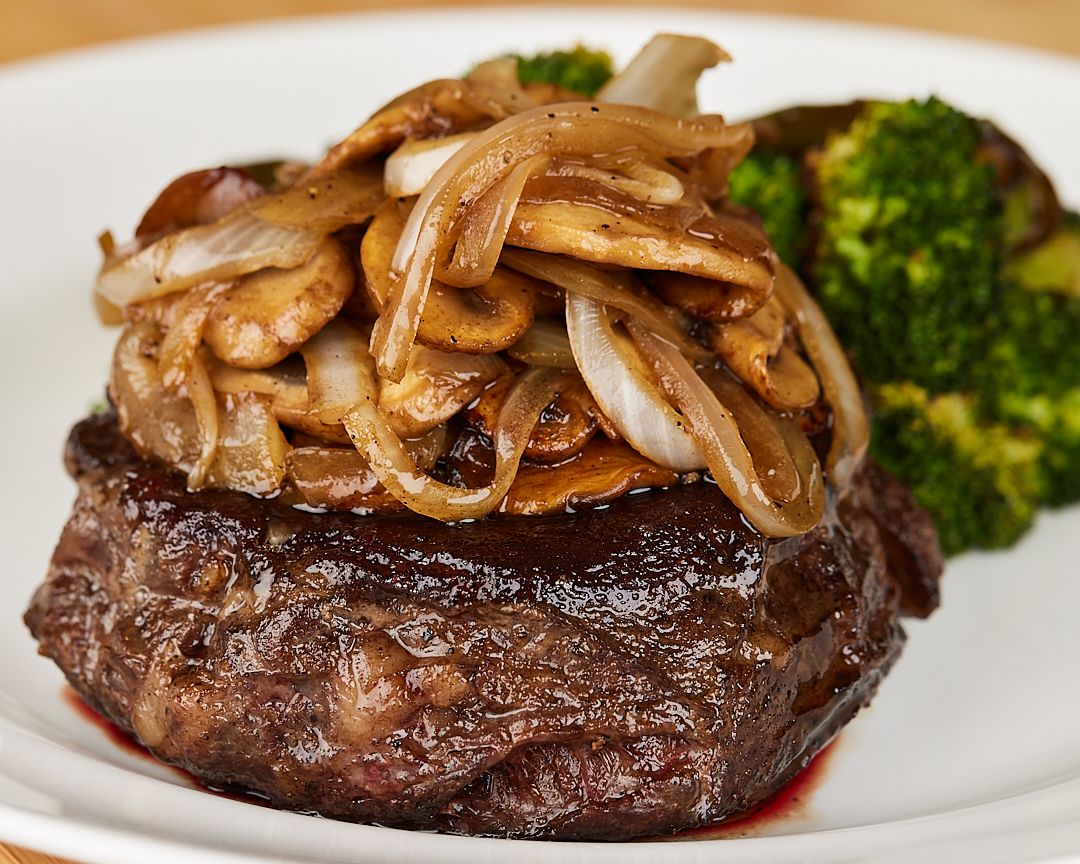 Ingredients
| Amount | Ingredient | Calories | Link |
| --- | --- | --- | --- |
| 1 lbs. | Ribeye Cap Steak | 1320 | Buy Fresh! |
| 1/8 tsp. | Kosher Salt | 0 | |
| 1/8 tsp. | Black Pepper | 1 | |
| 1/8 tsp. | Garlic Powder | 1 | |
| 1 cup | White Mushrooms | 21 | Buy Fresh! |
| 1 cup | Yellow Onion | 64 | Buy Fresh! |
| 2 tbsp. | Avocado Oil | 248 | |
| 3 tbsp. | Salted Butter | 306 | Buy Fresh! |
| 2 tbsp. | Worcestershire Sauce | 26 | |
| 1/2 tsp. | Black Pepper | 4 | |
Preparation
This dish features a ribeye cap tied into a beautiful ribeye steak. You can usually find this cut of beef at a butcher with a wider variety of selection. If you don't see it in the display case ask as they may be able to accommodate you. The ribeye cap is highly valued because of it's exceptional marbling and tenderness.
We keep the seasoning simple in this recipe to focus on the amazing ribeye cap. Salt, freshly ground black pepper, and perhaps some garlic powder is all you really need.
We cooked on medium-high heat until an internal temperature of 120 °F was reached. Once your desired temperature is reached, throw in some butter and baste for a few seconds on each side. Remove from heat and allow to rest for 5 minutes.
Sauteed Mushrooms
In a large cast iron skillet heat the avocado oil over medium-high heat. When the oil begins to smoke reduce the heat to medium and add the mushrooms. Remember to stir frequently to prevent sticking. Cook the mushrooms until they are tender and nicely browned. Add the sliced onion and cook until caramelized. Add the salted butter and Worcestershire sauce and fold together to combine. When satisfied remove from heat.
Plate the mushrooms, ribeye steak and your favorite sides. Enjoy!
Parings
Our go to with the ribeye cap is usually a Malbec and/or Syrah.
Nutrition
A 3 ounce portion of ribeye steak only has 203 calories. The sauteed mushrooms add roughly another 225 calories. Our ribeye steak weighed in at 9 ounces so we divided the sauteed mushrooms into thirds.

Recommended Serving Size: 3 oz. with sauteed mushrooms (Approximately 428 cal.)
Total Servings: Approximately 3
Items Used
Below are a few of the items used to create the finished result. The curated items below and ingredients above have been carefully selected and represent what we believe to be the best balance between quality and cost.