2020-09-25 15:26:53
Seattle, WA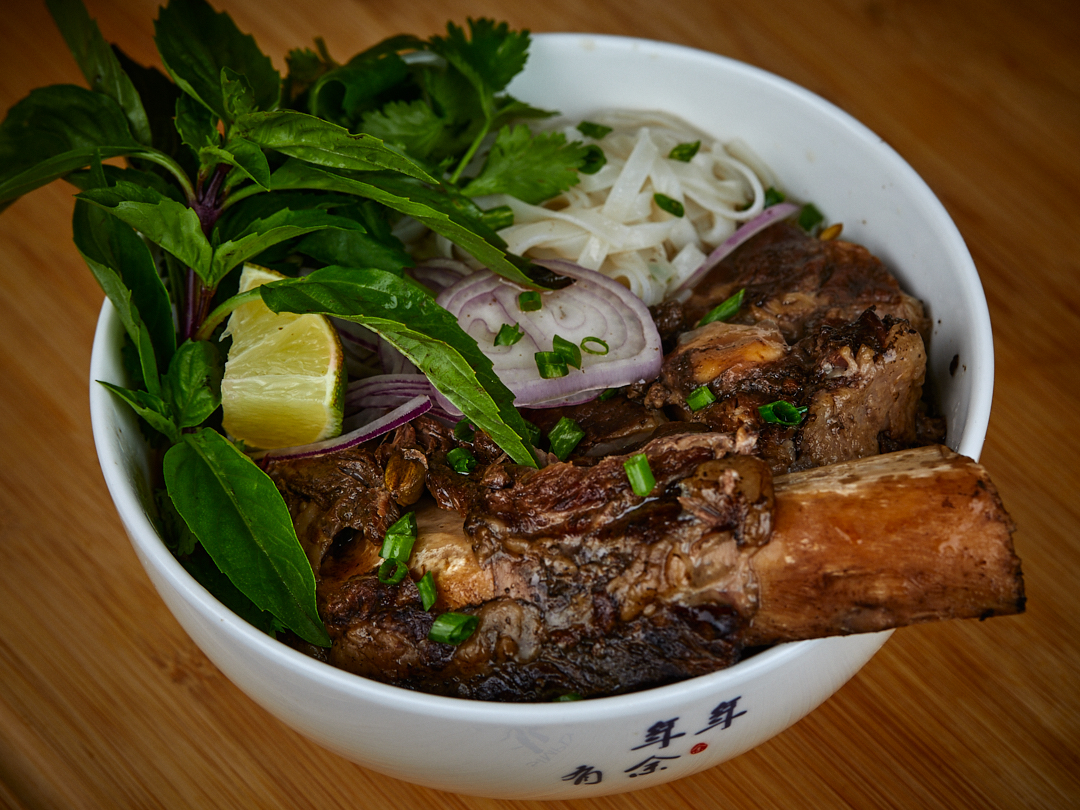 Ingredients
| Amount | Ingredient | Calories | Link |
| --- | --- | --- | --- |
| 1 lbs. | Beef Oxtail | 3056 | Buy Fresh! |
| 2 lbs. | Beef Ribs | 4270 | Buy Fresh! |
| 1 cup | Yellow Onion | 64 | Buy Fresh! |
| 1 whole | Ginger | 36 | Buy Fresh! |
| 1 whole | Cinnamon Stick | 19 | |
| 2 tbsp. | Coriander Seeds | 33 | |
| 2 tbsp. | Fennel Seeds | 4 | |
| 2 tbsp. | Star Anise | 4 | |
| 1 tbsp. | Cardamom Pod | 19 | |
| 2 tbsp. | Kosher Salt | 0 | |
| 1/4 cup | Fish Sauce | 26 | |
| 1 tbsp. | Sugar | 48 | |
| 1 cup | Cilantro | 4 | Buy Fresh! |
| 1 cup | Thai Basil | 4 | Buy Fresh! |
| 1 whole | Lime | 20 | Buy Fresh! |
| 1 bottle | Sriracha | 290 | |
| 1/4 cup | Shallot | 29 | Buy Fresh! |
| 1 package | Rice Sticks | 840 | |
Preparation
In a heavy pot parboil the oxtail and beef ribs for 5 minutes. The goal is to remove any impurities from the oxtail and beef ribs to enhance the flavor and clarity of the broth. Drain and rinse the bones then fill with fresh clean water and bring the oxtail and beef ribs back to a boil again.
Season the broth with a whole yellow onion cut in half. It's ok to leave the skin on. A 4 inch piece of fresh ginger halved. A whole cinnamon stick, break in half if you like. Add the coriander seeds, fennel seeds, star anise, cardamom pods, kosher salt, fish sauce, and sugar. Some like roast the ingredients above over an open flame to enhance the flavor. We skipped the step for this preparation to focus on the flavors of the oxtail and beef ribs.
Boiling times vary however we simmered on low heat for approximately 10 hours before we were satisfied with the flavors and clarity of the broth.
When ready to serve, boil the rice sticks until done. Using fresh noodles are even better if you can find them. Drain the noodles and place in a deep bowl. Add an oxtail and beef rib, then top with broth. Garnish with cilantro, shallots, thai basil, a piece of lime, and add Sriracha if you want a notch of heat.
Parings
The rich beef broth pairs surprisingly well with Merlot or Pinot.
Nutrition
A large bowl of pho is approximately 600 calories per serving.

Recommended Serving Size: 1 large bowl (Approximately 600 cal.)
Total Servings: Approximately 6-8
Items Used
Below are a few of the items used to create the finished result. The curated items below and ingredients above have been carefully selected and represent what we believe to be the best balance between quality and cost.