2020-09-29 07:18:07
Seattle, WA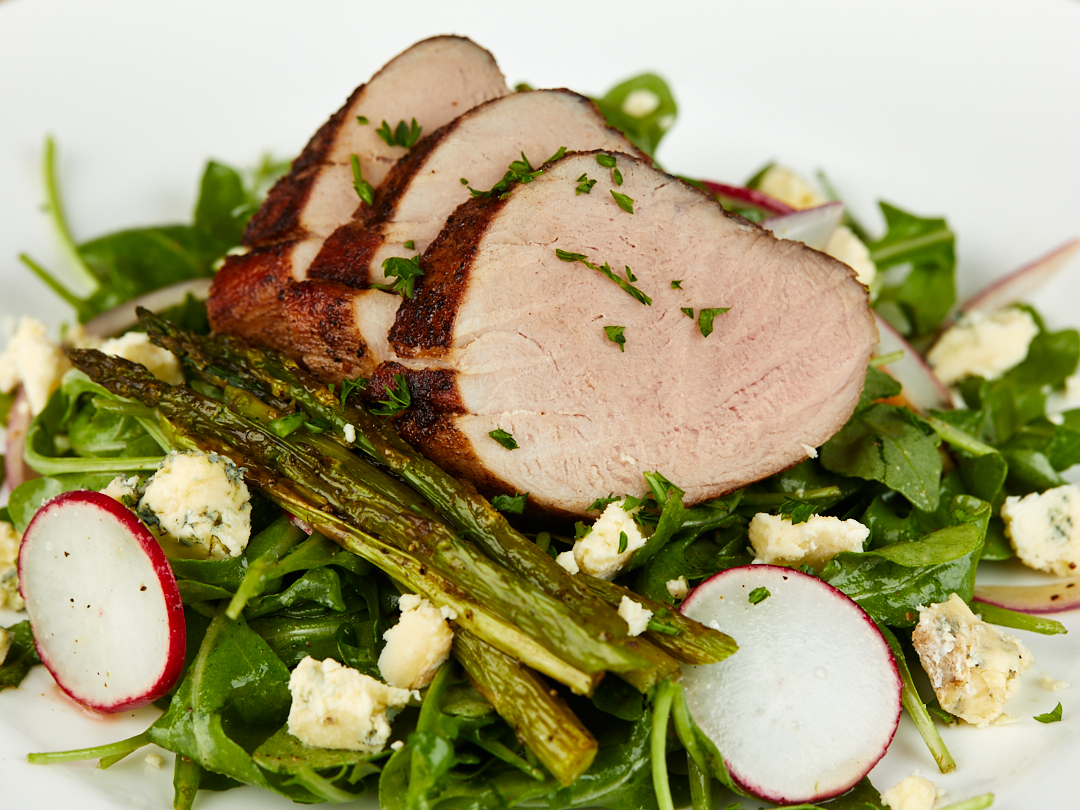 Ingredients
| Amount | Ingredient | Calories | Link |
| --- | --- | --- | --- |
| 1 lbs. | Pork Loin | 1022 | Buy Fresh! |
| 1 tsp. | Kosher Salt | 0 | |
| 1 tsp. | Black Pepper | 7 | |
| 6 cups | Arugula | 30 | Buy Fresh! |
| 1/2 cup | Radish | 10 | Buy Fresh! |
| 1/4 cup | Red Onion | 16 | Buy Fresh! |
| 2 tbsp. | Blue Cheese | 109 | Buy Fresh! |
| 1 cup | Asparagus | 27 | Buy Fresh! |
| 3 tbsp. | Extra Virgin Olive Oil | 358 | |
| 2 tbsp. | White Wine Vinegar | 6 | |
| 1 tsp. | Dijon Mustard | 5 | |
| 1/8 tsp. | Garlic Powder | 1 | |
| 1 tsp. | Honey | 22 | |
Preparation
Pork tenderloin makes for a light and healthy meal when paired with fresh greens. First we'll start with the salad dressing. In a bowel combine the extra virgin olive oil, white wine vinegar, dijon mustard, garlic powder, and honey. Mix well and set aside.
In a frying pan over medium-high heat sauté the asparagus until tender. Remove from heat and allow to cool. Next we'll cook the pork tenderloin.
Pre-heat the oven to 350 °F. Heat a cast iron-skillet until hot over medium-high heat. Season the pork loin generously with salt and pepper. Add a tablespoon of avocado oil and when it begins to smoke sear the pork loin on each side until a nice golden brown crust develops. When done remove from heat and place the cast iron skillet with pork loin in the oven and cook until an internal temperature of 140 °F is reached. When done remove from the oven and allow to rest. The residual heat will bring the internal temperature of the pork loin up to 145 °F.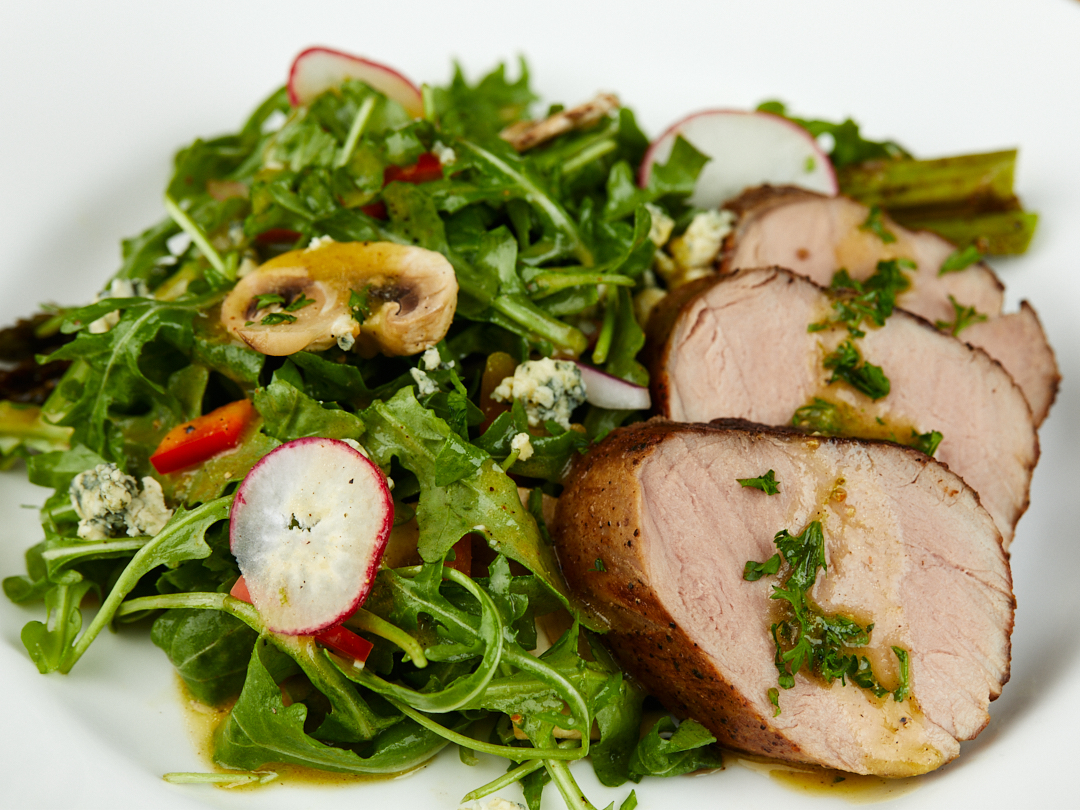 Toss the arugula, sliced radish, chopped red onion, and blue cheese with the salad dressing. When evenly coated, plate and garnish with the asparagus. Slice the chicken breast into thick slices and place on top of the greens. Drizzle the remaining salad dressing over the pork and enjoy!
Parings
Pork loin pairs amazingly well with Pinot Noir or Chianti.
Nutrition
A 3 ounce serving of pork loin is 125 calories. The salad, asparagus, and dressing adds an extra 260 calories.

Recommended Serving Size: 3 oz. (Approximately 385 cal.)
Total Servings: Approximately 5
Items Used
Below are a few of the items used to create the finished result. The curated items below and ingredients above have been carefully selected and represent what we believe to be the best balance between quality and cost.