2020-09-29 07:25:04
Seattle, WA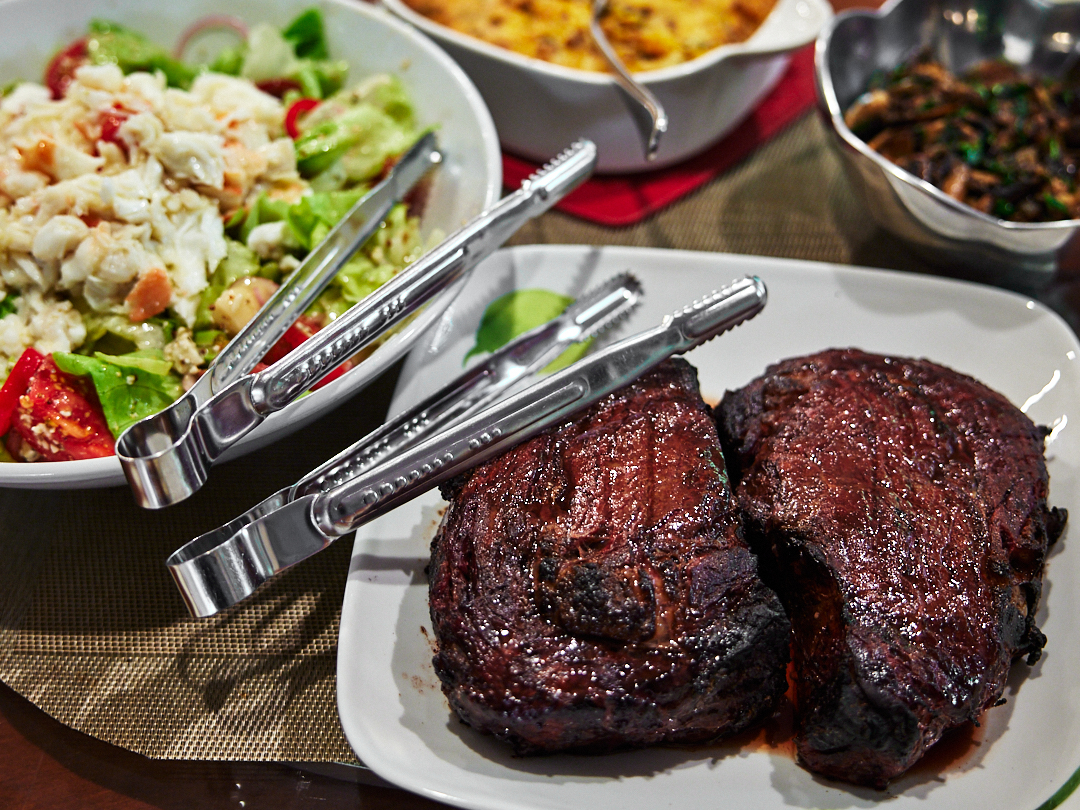 Ingredients
| Amount | Ingredient | Calories | Link |
| --- | --- | --- | --- |
| 1 lbs. | Ribeye Steak | 1320 | Buy Fresh! |
| 1 tsp. | Kosher Salt | 0 | |
| 1 tsp. | Black Pepper | 7 | |
| 6 oz. | King Crab | 143 | Buy Fresh! |
| 6 cups | Romain Lettuce | 54 | Buy Fresh! |
| 1/4 cup | Red Onion | 16 | Buy Fresh! |
| 1 lbs. | Tomatos | 46 | Buy Fresh! |
| 1/4 cup | Extra Virgin Olive Oil | 478 | |
| 1/4 cup | White Wine Vinegar | 11 | |
| 2 tbsp. | Dijon Mustard | 30 | |
| 1 cup | Red Pepper | 46 | Buy Fresh! |
Preparation
Season the ribeye steaks generously with kosher salt and black pepper. Grill the ribeye steaks over hot coals for 8 minutes on each side. You may need to vary your time depending on the thickness of your steaks. Ours were approximately 2 inches in thickness. When your desired internal temperature is reached remove from heat and allow to rest for 5 minutes. We removed the bones prior to cooking for a surprise dog treat.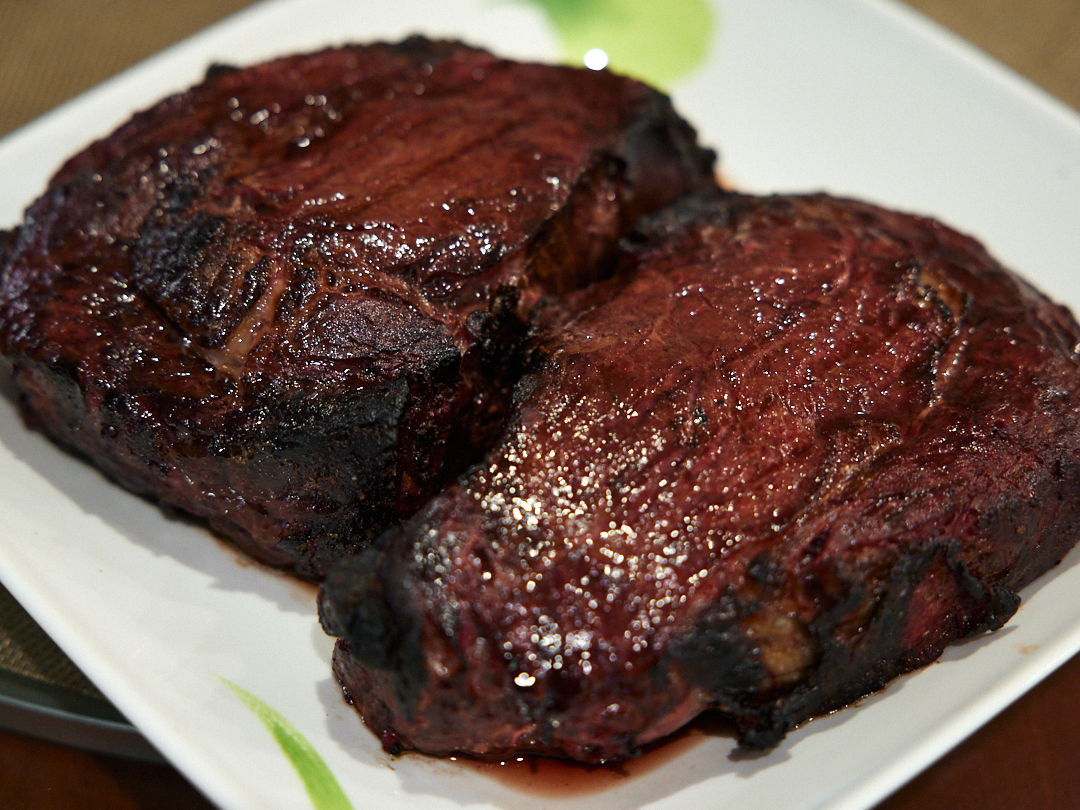 Next is the salad dressing for the king crab salad. In a large mixing bowl add the chopped red onion, sliced tomatoes, extra virgin olive oil, white wine vinegar, dijon mustard, sliced red peppers and mix well. Add the fresh king crab chunks and romaine lettuce. Toss until evenly coated with dressing. Plate and serve.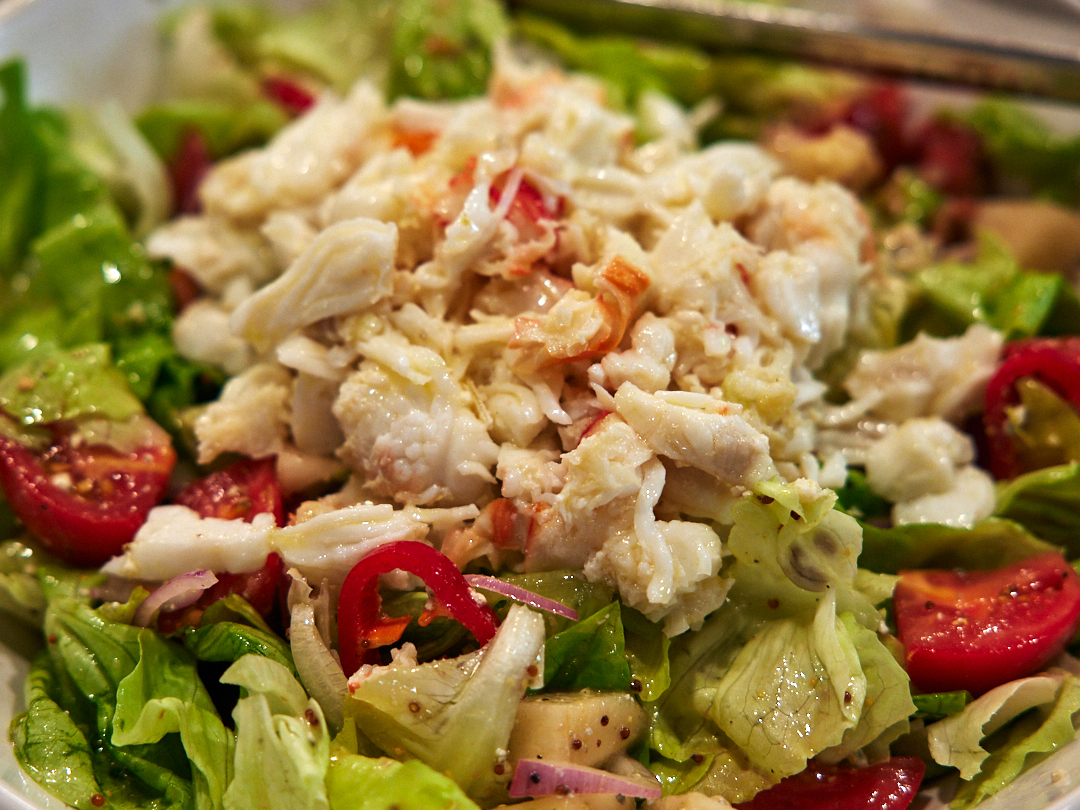 Parings
The tomahawk ribeye steaks go well with a bold Syrah or Malbec.
Nutrition
A 3 ounce serving of ribeye steak is about 203 calories. The salad with dressing is approximately 145 calories per serving.

Recommended Serving Size: 3 oz. of ribeye and 1/2 of the salad. (Approximately 348 cal.)
Total Servings: Approximately 2
Items Used
Below are a few of the items used to create the finished result. The curated items below and ingredients above have been carefully selected and represent what we believe to be the best balance between quality and cost.