2020-09-30 12:35:39
Seattle, WA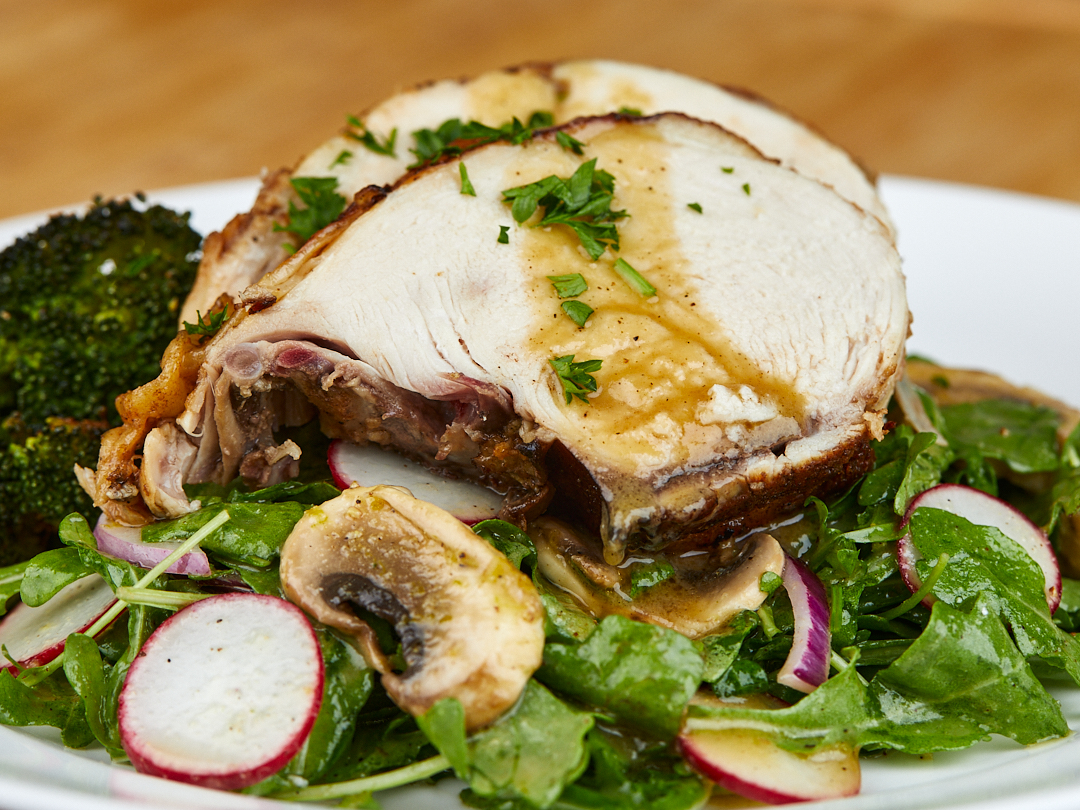 Ingredients
| Amount | Ingredient | Calories | Link |
| --- | --- | --- | --- |
| 1/2 lbs. | Bone In Split Chicken Breast | 385 | Buy Fresh! |
| 1/8 tsp. | Kosher Salt | 0 | |
| 1/8 tsp. | Black Pepper | 1 | |
| 1/4 cup | Extra Virgin Olive Oil | 478 | |
| 1/4 cup | White Wine Vinegar | 11 | |
| 1 tsp. | Dijon Mustard | 5 | |
| 1 tsp. | Honey | 22 | |
| 1 tbsp. | Garlic Clove | 13 | Buy Fresh! |
| 1 sprig | Rosemary | 8 | Buy Fresh! |
| 1 tbsp. | Shallot | 8 | Buy Fresh! |
| 1 tsp. | Lemon Zest | 1 | Buy Fresh! |
| 1 tbsp. | Lemon Juice | 4 | Buy Fresh! |
| 1 tbsp. | Salted Butter | 102 | Buy Fresh! |
| 1 tbsp. | All Purpose Flour | 31 | |
Preparation
To make the marinade we will need a mortar and pestle. In the mortar add the extra virgin olive oil, white wine vinegar, Dijon mustard, honey, lemon zest and juice, crushed garlic, chopped rosemary, and diced shallots. With the pestle mix well to create a rich marinade for the chicken.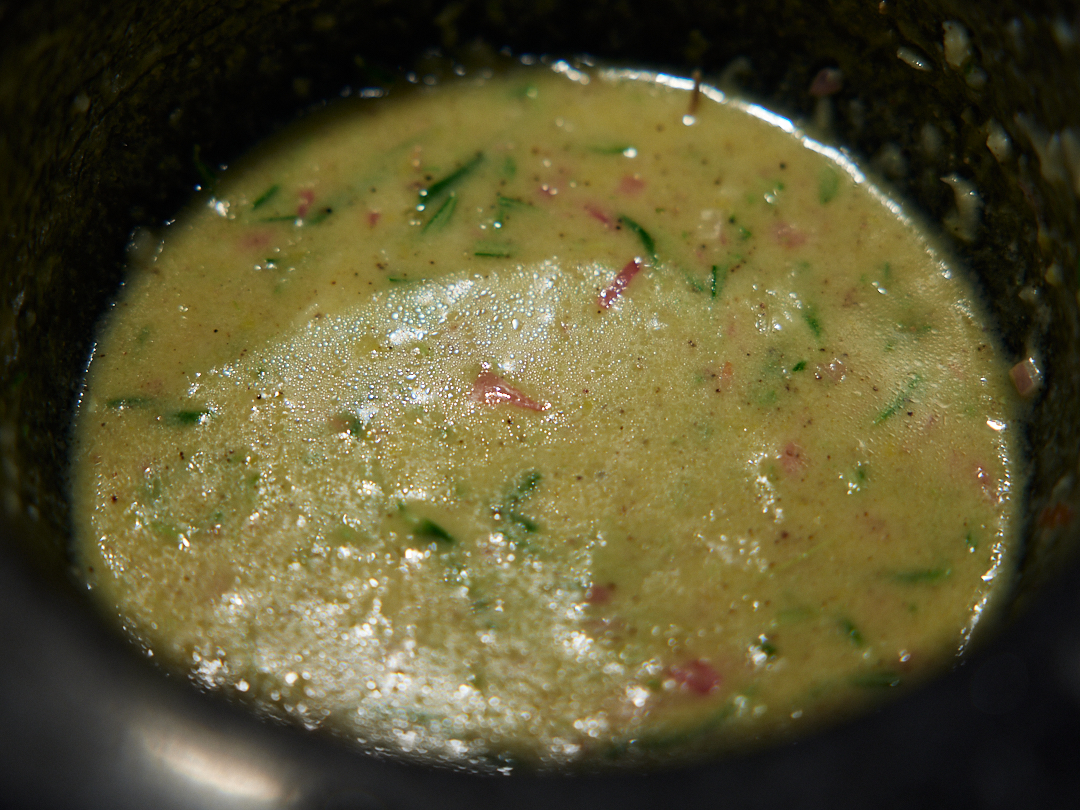 Place the chicken breast into a medium size container and pour in the lemon garlic rosemary marinade. Make sure the chicken is coated well and then marinate for at least 2 hours in the refrigerator. Marinate longer and you'll get bolder flavors.
When ready to cook, pre-heat the oven to 425 °F. Remove the chicken breast from the marinade and reserve the marinade for the sauce. Heat the cast iron skillet over the medium-high heat and add a tablespoon of avocado oil. When the avocado oil begins to smoke sear the chicken breast on each side for 1 minute until a nice golden crust is formed. Place the skillet with chicken breast in the oven and bake until an internal temperature of 165 °F is reached. When done remove the chicken from the oven and allow it to rest for 5 minutes.
While the chicken breast is in the oven roasting, pour the chicken marinade into a small sauce pan and reduce over medium heat. Add a tablespoon of butter and stir gently until melted. Sift a tablespoon of all-purpose flour through a fine mesh strainer and stir until mixed well. The flour and butter will make your sauce rich and thick. When ready to serve, slice the chicken breast into generous sized pieces and serve it with the sauce over your choice of fresh greens.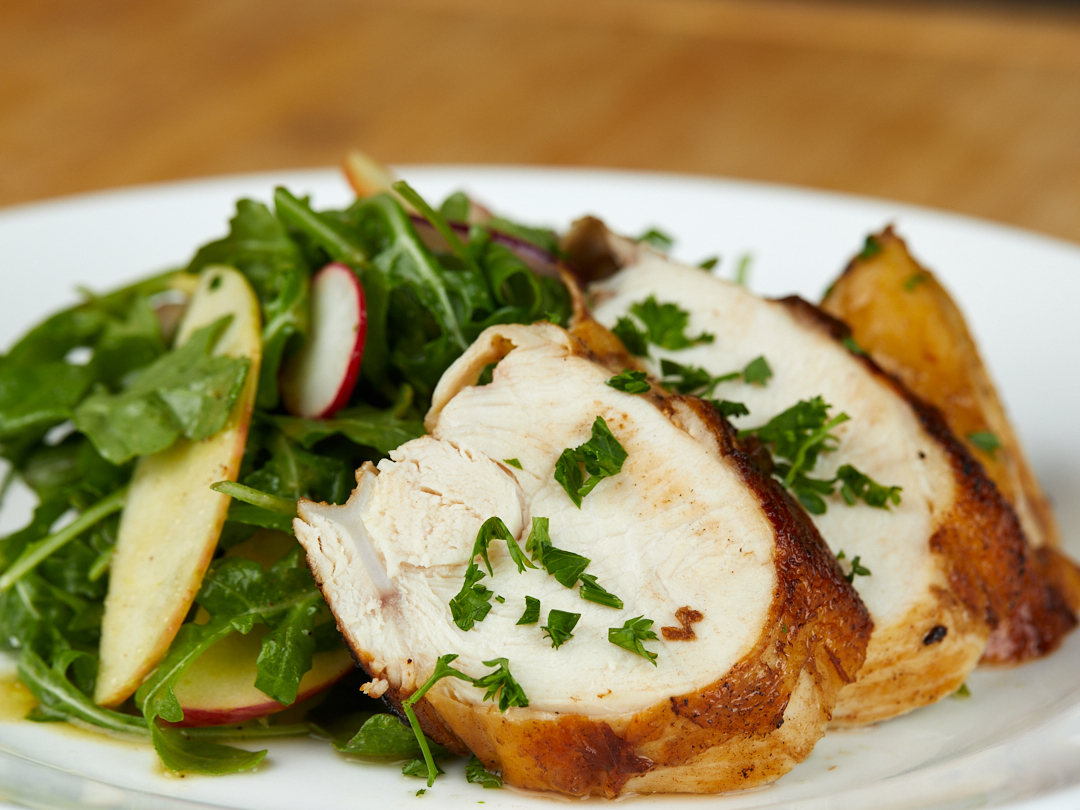 Parings
The dish pairs exceptionally well with a white wine like Chardonnay and/or Sauvignon Blanc. If your prefer a red wine try a Cabernet Sauvignon.
Nutrition
While the lemon garlic rosemary sauce may appear to be high on calories we only consume a small portion per serving or about 1 tablespoon (approximately 83 cal./tablespoon). Add the 4 ounces of chicken and this is an amazingly healthy dinner option full of delicious flavors.

Recommended Serving Size: 4 oz. of chicken with 1 tablespoon of sauce. (Approximately 300 cal.)
Total Servings: Approximately 2
Items Used
Below are a few of the items used to create the finished result. The curated items below and ingredients above have been carefully selected and represent what we believe to be the best balance between quality and cost.