2020-10-04 10:51:21
Seattle, WA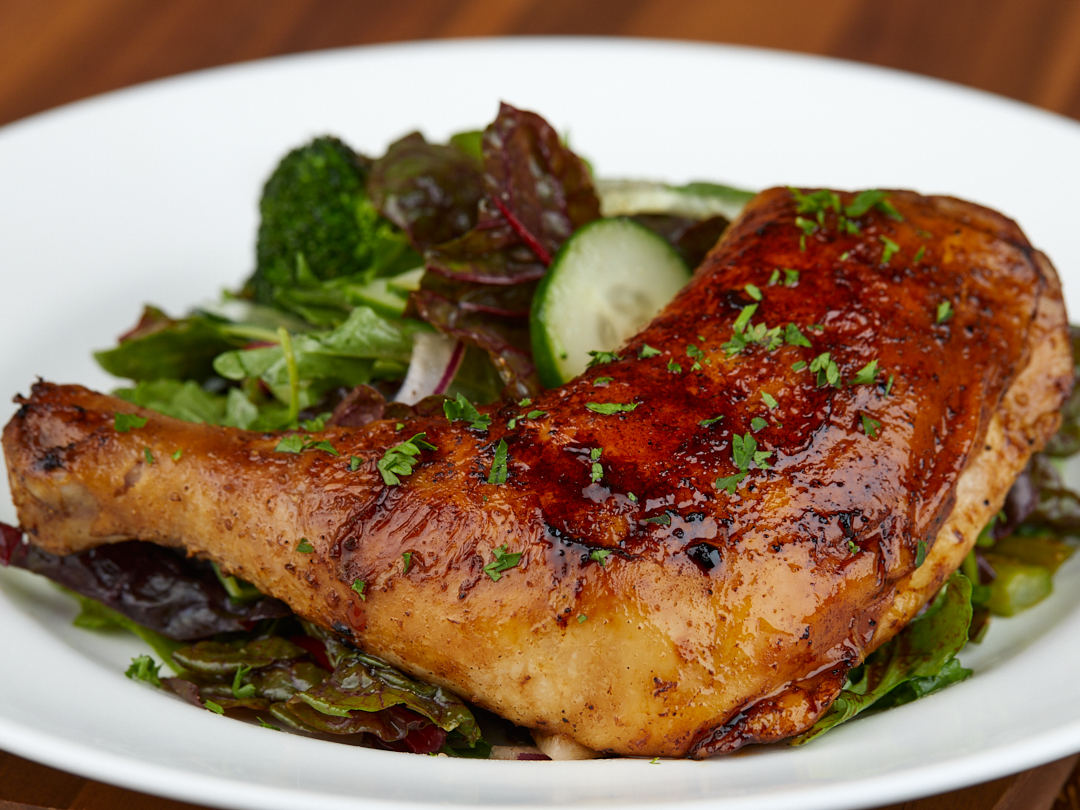 Ingredients
| Amount | Ingredient | Calories | Link |
| --- | --- | --- | --- |
| 1 lbs. | Chicken Leg Quarters | 1013 | Buy Fresh! |
| 1/8 tsp. | Kosher Salt | 0 | |
| 1/8 tsp. | Black Pepper | 1 | |
| 3 tbsp. | Balsamic Vinegar | 91 | |
| 1 tbsp. | Olive Oil | 120 | |
| 1 tbsp. | Honey | 65 | |
Preparation
Chicken legs and thighs are an excellent source of many important nutrients including iron and zinc. The rich flavor and higher fat content of the dark meat makes it a the perfect companion for the fresh salad greens.
In a measuring cup mix together the Balsamic vinegar, raw honey, and olive oil. Set aside until needed.
Pat the chicken leg quarters dry with a paper towel. Season generously with salt, freshly ground black pepper, and garlic powder.
Pre-heat the oven to 425 °F. Heat the cast iron skillet over medium-high heat and add a tablespoon of avocado oil. When the avocado oil starts to smoke sear the chicken leg quarters on each side for about 1 minute or until a nice golden crust forms. Next baste each side of chicken leg quarters with the balsamic vinegar honey glaze and cook for an additional minute. Pour the rest of the glaze into the skillet and then place into the oven.
Roast the chicken until an internal temperature of 160 °F is reached. When done remove from the oven and allow to rest for 5 minutes. The residual heat will bring the internal temperature of the chicken up to 165 °F. Serve the chicken legs with your favorite choice of fresh greens.
Parings
The chicken legs and thighs pairs amazingly well with a Chardonnay or Pinot Noir.
Nutrition
A 5 ounce serving of chicken is about 341 calories.

Recommended Serving Size: 5 oz. (Approximately 341 cal.)
Total Servings: Approximately 2
Items Used
Below are a few of the items used to create the finished result. The curated items below and ingredients above have been carefully selected and represent what we believe to be the best balance between quality and cost.