2020-08-28 16:28:59
Seattle, WA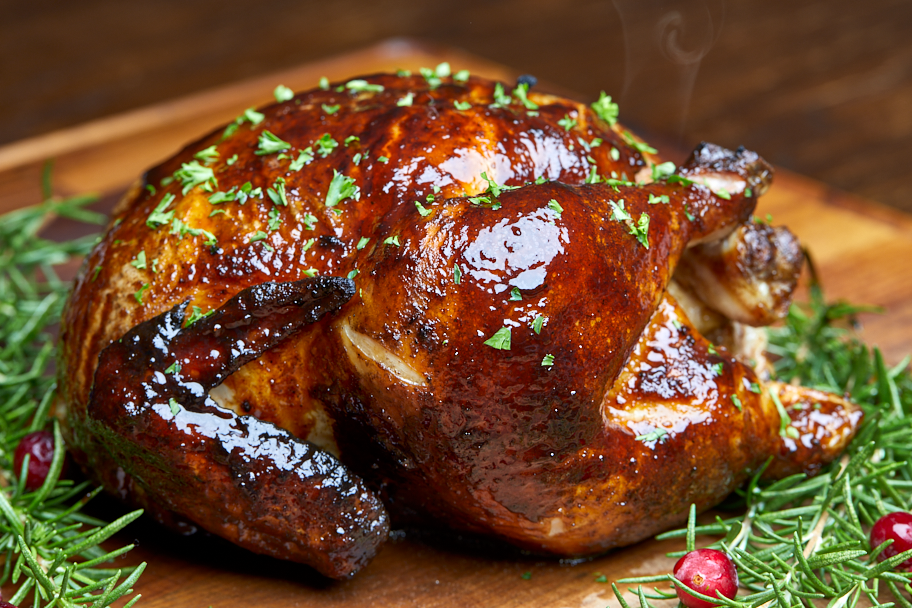 Ingredients
| Amount | Ingredient | Calories | Link |
| --- | --- | --- | --- |
| 1 cup | Fresh or Frozen Cranberries | 373 | Buy Fresh! |
| 1 tbsp. | Grated Fresh Ginger | 19 | Buy Fresh! |
| 2 tbsp. | Unsalted Butter | 204 | Buy Fresh! |
| 4 lbs. | Chicken | 4048 | Buy Fresh! |
| 3 cups | Apple Cider | 342 | |
| 1/2 cup | Molasses | 489 | |
| 1/2 cup | Vinegar | 22 | |
| 1 tbsp. | Dijon Mustard | 15 | |
| 1/8 tsp. | Kosher Salt | 0 | |
Preparation
In a sauce pan combine the apple cider (homemade is even better), molasses, vinegar, Dijon mustard, ginger, butter, and salt. Stir over medium heat until the sauce starts to bubble then lower the heat and simmer until the glaze thickens and coats the back of a spoon. Once complete remove the glaze from the heat, set aside, and allow to cool.
Generously season the chicken with salt, pepper, and garlic powder. Next, carefully skewer the chicken onto the spit and position/balance as necessary for your rotisserie system. We prefer to cook over a wood fire, however, charcoal and gas work well too with minimal sacrifice on flavor. That being said a wood fire makes a difference!
When the birds internal temperature reaches approximately 5 degrees within your target temperature apply the glaze and make sure the heat from your fire does not burn the glaze. The goal is to let the glaze set and create a sticky delicious coating. Once your desired internal cooking temperature has been reached pull the chicken from the fire and allow the chicken to rest. The USDA recommends an internal cooking temperature of at least 165 degrees.
Once rested carve the chicken as desired into individual portions and serve. A side of glaze makes the perfect dipping sauce!
Parings
Many favor a tried and true Pinot Noir, however, if you prefer something bolder go for a Syrah!
Nutrition
At first glance the number of calories in the cranberry molasses glaze may seem alarming but a little goes a long way! During the rotisserie process the heat from the fire will render the glazes flavor into the chicken while the excess drips away into the fire creating smoke and adding even more flavor to the bird. After all is said and done, the glaze only adds approximately 15 additional calories per tablespoon.

Recommended Serving Size: 3 oz. (Approximately 205 cal.)
Total Servings: Approximately 6
Items Used
Below are a few of the items used to create the finished result. The curated items below and ingredients above have been carefully selected and represent what we believe to be the best balance between quality and cost.