2020-10-14 09:51:37
Seattle, WA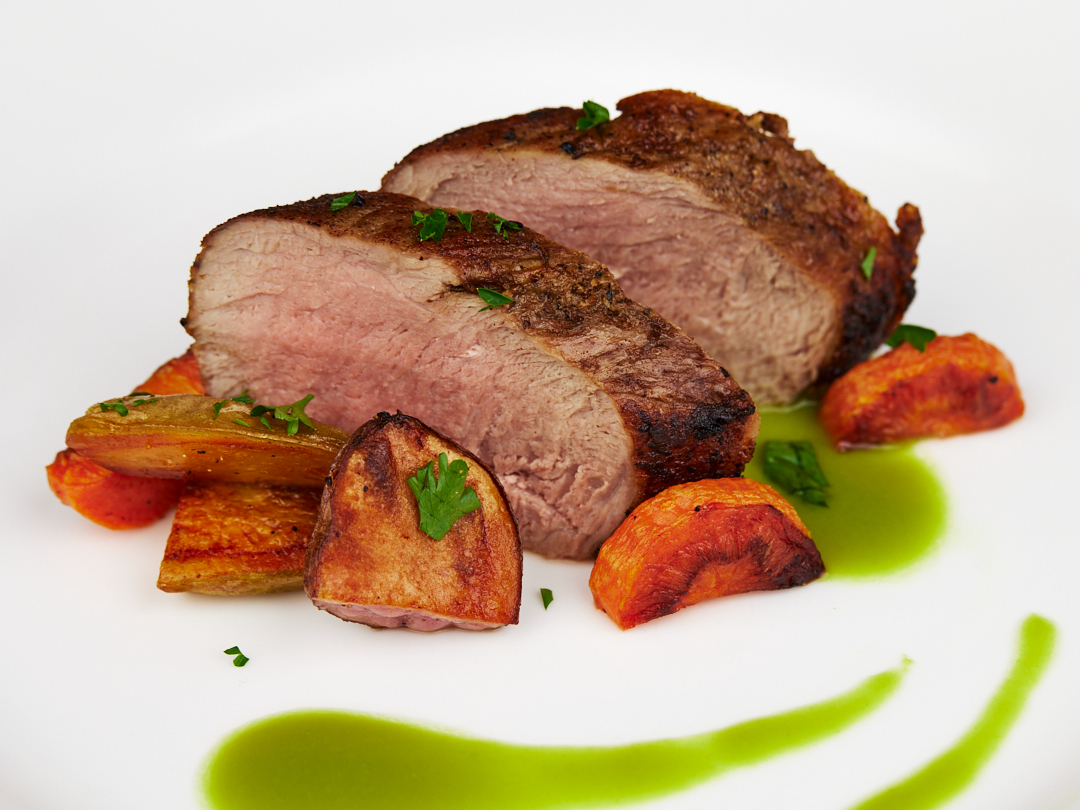 Ingredients
| Amount | Ingredient | Calories | Link |
| --- | --- | --- | --- |
| 1 lbs. | Pork Tenderloin | 1022 | Buy Fresh! |
| 2 cups | Fingerling Potatoes | 220 | Buy Fresh! |
| 2 cups | Carrots | 344 | Buy Fresh! |
| 1 tbsp. | Kosher Salt | 0 | |
| 1 tbsp. | Black Pepper | 19 | |
| 1 tbsp. | Avocado Oil | 124 | |
| 1 tbsp. | Olive Oil | 120 | |
Preparation
Today's preparation includes a beautiful pork tenderloin with roasted vegetables. The roasted vegetables take about 30-45 minutes to cook so we'll want to get those started first. Pre heat the oven to 350 °F. Slice the potatoes and carrots into small pieces and toss into a bowl with olive oil, kosher salt, and freshly ground black pepper. Place the potatoes and carrots evenly on a baking pan and roast at 350 °F for 30-45 minutes. We'll want to cook the roasted vegetables until they are fork tender. When done remove from heat and set aside to cool.

For today's pork tenderloin we'll quickly sear the outside before finishing it in the oven. This method of cooking creates that flavorful crust on the outside while cooking the inside perfectly to your desired temperature. The USDA recommends an internal safe temperature of 145 °F.

Generously season the pork tenderloin with kosher salt and freshly ground black pepper. Place a cast iron skillet over high heat and add a tablespoon of avocado oil. Just as the avocado oil begins to smoke add the pork tenderloin and sear evenly on all sides. When done remove from heat and place the entire cast iron skillet with pork tenderloin into the oven to finish cooking to your desired temperature. Once done remove from the oven and allow to rest for 5-10 minutes.

Slice the pork tenderloin into 1 inch medallions and serve with the roasted vegetables.
Parings
Try a nice bottle of Pinot Noir or Chianti with the flavorful pork tenderloin.
Nutrition
A 3 ounce portion of pork tenderloin nets rougly 130 calories per 3 ounce serving. The sides add approximately another 350 calories.

Recommended Serving Size: 3 oz. serving with sides. (Approximately 480 cal.)
Total Servings: Approximately 2
Items Used
Below are a few of the items used to create the finished result. The curated items below and ingredients above have been carefully selected and represent what we believe to be the best balance between quality and cost.