2020-10-22 15:43:04
Seattle, WA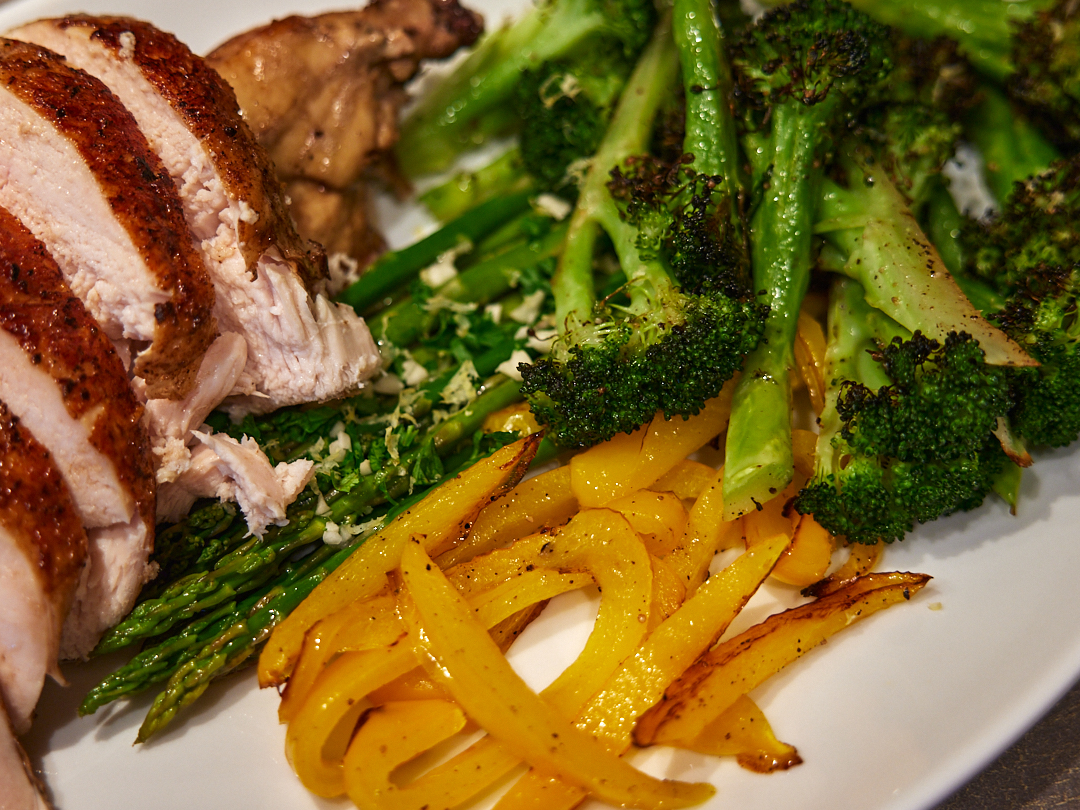 Ingredients
| Amount | Ingredient | Calories | Link |
| --- | --- | --- | --- |
| 2 cups | Broccoli | 62 | Buy Fresh! |
| 2 cups | Asparagus | 54 | Buy Fresh! |
| 2 cups | Bell Pepper | 60 | Buy Fresh! |
| 1/8 tsp. | Kosher Salt | 0 | |
| 1/8 tsp. | Black Pepper | 1 | |
| 1 tbsp. | Olive Oil | 120 | |
| 1/2 tsp. | Lemon Zest | 1 | Buy Fresh! |
| 1 1/2 tbsp. | Parsley | 3 | Buy Fresh! |
| 1 tbsp. | Parmesan Cheese | 37 | |
Preparation
We originally purchased the Anova Precision Oven primarily to bake breads and other treats. Since we now own one, we are in the test phase to see what exactly it can do. Below is a simple steamed vegetable recipe to go along with dinner. First we'll start by pre-heating the Anova Precision Oven.
Step 1 - Pre Heat
Heating Elements: Rear
Sous Vide Mode: Off
Temperature: 400 °F
Steam: 80%
Cut the broccoli into individual bite size pieces. Slice the bell pepper into strips. Remove the woody portion of the asparagus.

Chop the flat leaf parsley, grate the lemon zest and parmesan cheese, set aside.

Place the prepared vegetables onto two baking trays. Lightly season with olive oil, kosher salt, and black pepper.
Step 2 - Bake With Steam
Heating Elements: Rear
Sous Vide Mode: Off
Temperature: 400 °F
Steam: 80%
Time:
10 Minutes
Place the vegetables into the oven and bake with steam for 10 minutes.

Remove the vegetables from the oven. Place the asparagus, broccoli, and bell peppers onto a platter. Garnish with parsley, lemon zest, and parmesan cheese shavings.
Parings
Try a Gruner Veltliner or Sancerre, they both complement the asparagus.
Nutrition
3 ounces of asparagus, broccoli, and bell pepper each barely total 60 calories.

Recommended Serving Size: 9 oz. (Approximately 58 cal.)
Total Servings: Approximately 4
Items Used
Below are a few of the items used to create the finished result. The curated items below and ingredients above have been carefully selected and represent what we believe to be the best balance between quality and cost.