2020-10-26 07:54:14
Seattle, WA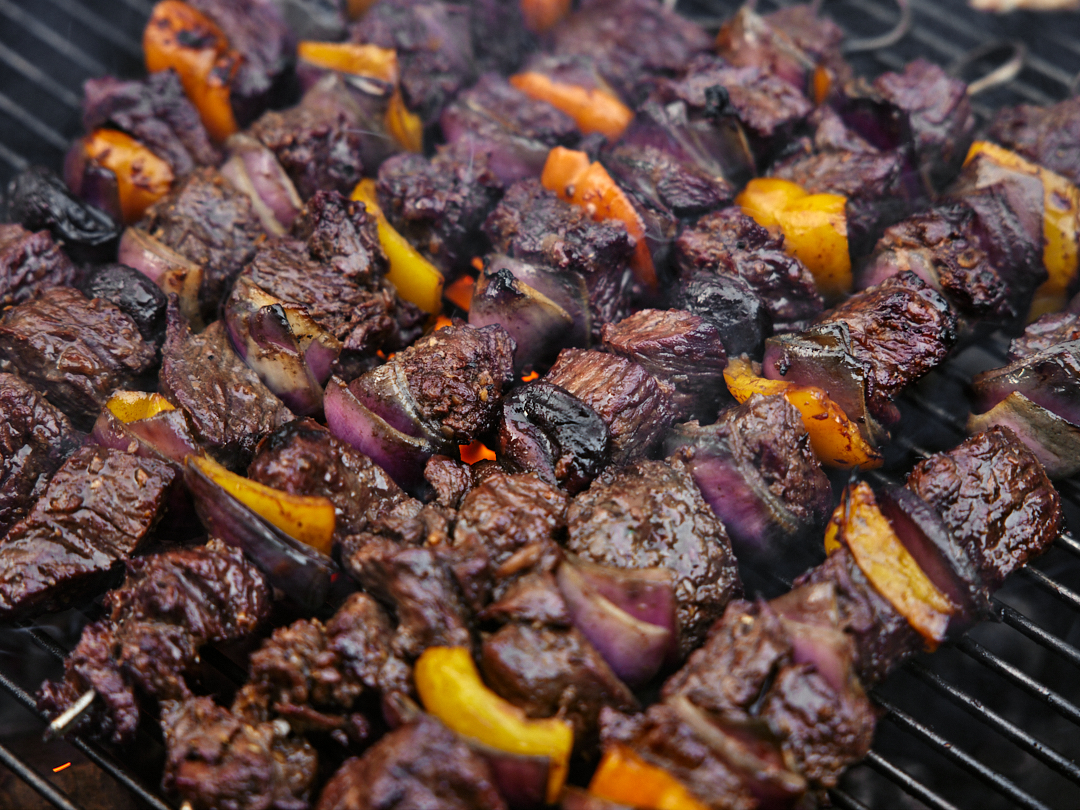 Ingredients
| Amount | Ingredient | Calories | Link |
| --- | --- | --- | --- |
| 2 lbs. | Wagyu Chuck Roast | 2678 | Buy Fresh! |
| 2 cup | Red Onion | 128 | Buy Fresh! |
| 1 cup | Bell Pepper | 30 | Buy Fresh! |
| 1 cup | Mushrooms | 21 | Buy Fresh! |
| 1 tsp. | Kosher Salt | 0 | |
| 1 tsp. | Black Pepper | 7 | |
Preparation
Shish Kabobs make for an amazing meal which we believe are totally underrated. A single kabob has so many flavors and textures that complement each other. Perfectly seasoned chunks of beef, red onion, bell pepper, and mushroom cook over a hot coal fire. You get this beautiful char that adds intense flavor to the beef and the vegetables get fire roasted. To top it off the ingredients then self baste each neighboring ingredient with their own juices making everything perfectly harmonize. Check out our recipe below.
Slice the beef chuck roast approximately into 1 inch cubes. Size doesn't really matter as long as they are all even in size. Next slice the red onion and bell pepper into similarly sized chunks. Some leave the mushrooms whole, others cut them into smaller pieces, totally up to you. Next throw all of these ingredients into a large mixing bowl and toss with kosher salt and freshly ground black pepper.
Take a skewer and carefully thread on the beef, red onion, bell pepper, and mushrooms in an alternating fashion. Once your kabobs are put together, place them over hot coals and cook them to your desired temperature. We used Wagyu Beef Chuck Roast so we cooked ours to about 130 °F. When done remove from heat and allow to rest for at least 5 minutes.
Parings
These shish kabobs go amazingly well with a full bodied Syrah or Malbec.
Nutrition
A 3 ounce portion of beef chuck roast is approximately 200 calories. Add the red onion, bell pepper, and mushrooms for another 68 calories.

Recommended Serving Size: 3 oz. serving of each. (Approximately 268 cal.)
Total Servings: Approximately 16
Items Used
Below are a few of the items used to create the finished result. The curated items below and ingredients above have been carefully selected and represent what we believe to be the best balance between quality and cost.