2020-10-30 18:39:09
Seattle, WA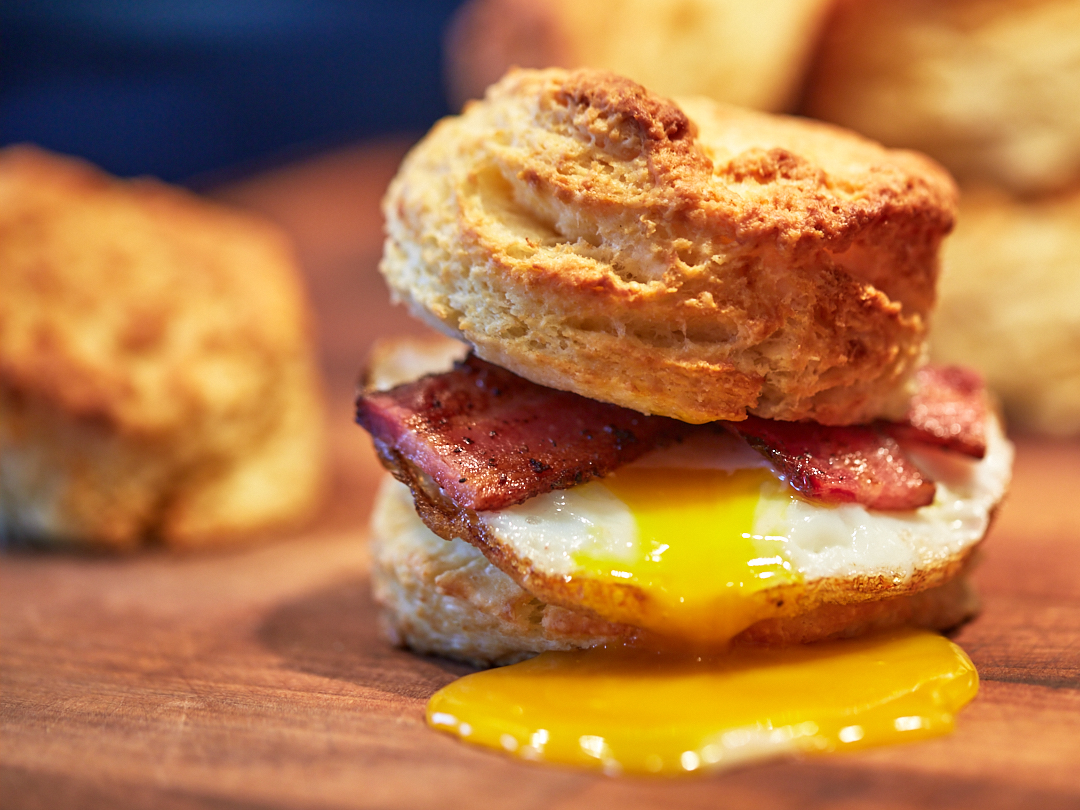 Ingredients
| Amount | Ingredient | Calories | Link |
| --- | --- | --- | --- |
| 1/2 oz. | Thick Cut Bacon | 76 | Buy Fresh! |
| 1 whole | Egg | 78 | Buy Fresh! |
| 2 cups | All Purpose Flour | 962 | |
| 2 tsp. | Baking Powder | 7 | |
| 1/2 tsp. | Baking Soda | 0 | |
| 1/2 tsp. | Kosher Salt | 0 | |
| 1/2 cups | Unsalted Butter | 815 | Buy Fresh! |
| 1 cup | Buttermilk | 99 | Buy Fresh! |
Preparation
Since the Anova Precision Oven is still new to us, we will be testing our tried and true recipes that would traditionally be made in a regular oven to see if it delivers better results. For this post we'll be making our buttermilk biscuits in the Anova Precision Oven to test what cooking with steam brings to the table.

With a traditional oven, we bake at 500 °F for about 16 minutes. Since the Anova Precision Oven only goes as high as 482 °F we were limited with our bake temperature which will make for an interesting test. We learned that baking with steam makes wonderful bread by providing a suitable environment to develop a nice rise and later in the backing process a crispy crust. Let's see how the biscuits fare when baked with 100% steam.
Step 1 - Pre Heat
Heating Elements: Rear
Sous Vide Mode: Off
Temperature: 482 °F
Steam: 100%
Once the oven is ready bake for 16 minutes.
Step 2 - Bake With Steam
Heating Elements: Rear
Sous Vide Mode: Off
Temperature: 482 °F
Steam: 100%
Time: 16 Minutes
Once done, remove the biscuits from the oven and allow them to cool on a wire rack. While the biscuits cool, we'll prepare the remainder of the sandwich.

With a cast iron skillet cook the bacon until done then place on a paper towel to remove any excess oil. Drain the cast iron skillet and cook your egg sunny side up, over easy, or however you prefer. We'll use the flavors from the bacon to enhance the egg.

When done slice a biscuit in half and top with the egg and bacon. Serve warm for the best tasting experience.

Testing this recipe in the Anova Precision Oven revealed that baking biscuits with steam really brings out that beautiful rustic looking crust while keeping the inside moist and fluffy. As for the rise, we did not notice any significant difference between baking with or without steam.
Parings
While the biscuit is supposed to be the star of the show the bacon goes exceptionally well with a Riesling or Pinot Noir.
Nutrition
One slice of pan-fried bacon averages 43 calories. One Sunny Side Up Egg give 97 calories. A buttermilk biscuit averages 170 calories. That gives you a grand total of roughly 310 calories per biscuit sandwich, which considering the amazing flavors, is pretty awesome.

Recommended Serving Size: 1 Biscuit Sandwich (Approximately 310 cal.)
Total Servings: Approximately 6
Items Used
Below are a few of the items used to create the finished result. The curated items below and ingredients above have been carefully selected and represent what we believe to be the best balance between quality and cost.