2020-10-31 15:40:20
Seattle, WA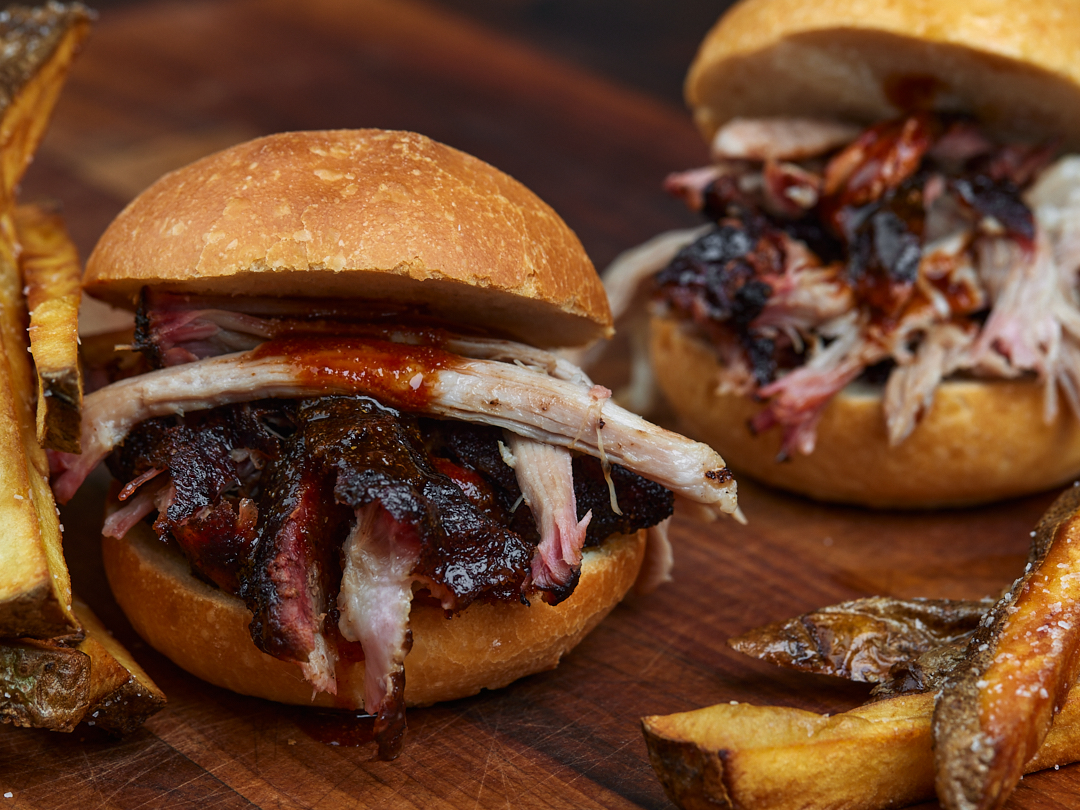 Ingredients
| Amount | Ingredient | Calories | Link |
| --- | --- | --- | --- |
| 8 lbs. | Pork Shoulder | 9736 | Buy Fresh! |
| 1 tbsp. | Kosher Salt | 0 | |
| 1 tbsp. | Black Pepper | 19 | |
| 1 tbsp. | Garlic Powder | 13 | |
| 1 tbsp. | Onion Powder | 25 | |
| 1 tbsp. | Paprika | 20 | |
| 1 tbsp. | Gochujang | 56 | |
| 2 tsp. | Honey | 43 | |
| 2 tsp. | Mirin | 24 | Buy Fresh! |
| 2 tsp. | Soy Sauce | 5 | |
| 1/2 tsp. | Sesame Oil | 21 | |
| 1 whole | Garlic Clove | 0 | Buy Fresh! |
| 1/2 tsp. | Ginger | 4 | Buy Fresh! |
| 1 tbsp. | Active Dry Yeast | 36 | |
| 1 cup | Water | 0 | Use Fresh Water! |
| 1/3 cups | Olive Oil | 630 | |
| 1 tsp. | Sugar | 16 | |
| 1 whole | Egg | 78 | Buy Fresh! |
| 1 tsp. | Kosher Salt | 0 | |
| 4 cups | All Purpose Flour | 1924 | |
| 1 tsp. | Salted Butter | 34 | Buy Fresh! |
Preparation
We were craving BBQ pork and combined with looking for things to make with the Anova Precision Oven we decided to test out hamburger buns. Below is our simple to make BBQ pork recipe.

Generously season the pork shoulder with kosher salt, freshly ground black pepper, garlic powder, onion powder, and paprika. Smoke over hot coals and hickory wood chunk until an internal temperature of 180 °F is reached. While the pork shoulder is cooking we'll make the hamburger buns.
Buns
In a stand-up mixer bowl combine warm water, white sugar, and active dry yeast. Whisk the contents well and allow it to sit at room temperature for 15 minutes.

Add the olive oil, kosher salt, and egg. Whisk well to combine. Next, add the flour and knead the dough for 5 minutes on a medium speed setting until the dough is no longer sticky.

Shape the dough into a ball and transfer it to a medium size mixing bowl. Cover the bowl with plastic wrap and let it proof at room temperature for an hour.

Place the dough onto a lightly floured surface. Divide the dough into 8 equal pieces and form round balls. Gently flatten each ball into 3" discs.

Place the pre-shaped buns on a piece of parchment paper and cover the buns with a kitchen towel. Let the buns rise at room temperature for about 30 minutes.
Step 1 - Pre Heat
Heating Elements: Rear
Sous Vide Mode: Off
Temperature: 350 °F
Steam: 100%
Melt one tablespoon of butter. When ready to bake lightly brush the melted butter over the top of each bun. Place the buns into the oven and bake for 12 minutes.
Step 2 - Bake With Steam
Heating Elements: Rear
Sous Vide Mode: Off
Temperature: 350 °F
Steam: 100%
Time: 12 Minutes
Bake until light golden brown which should approximately be around the 12 minute mark. When done remove from the oven and cool the hamburger buns for 10 minutes on a wire rack.
Finishing the BBQ Pork Shoulder
When the pork shoulder reaches your desired internal temperature remove from the smoker and allow to rest for at least 10 minutes. When cool slice or pull as desired.
Sauce
While the pork shoulder is resting we will make the sauce. In a measuring cup add the gochujang, honey, mirin, soy sauce, sesame oil, crushed garlic clove, and grated ginger. Mix well.

Now that everything is prepared slice a freshly baked hamburger bun in half. Top with a generous portion of BBQ pork and sauce. Garnish with your favorite sides and enjoy!
Parings
We enjoyed the BBQ pork with a nice glass of Syrah, however, a Malbec pairs equally well.
Nutrition
A single 3 oz serving of BBQ pork with sauce is approximately 240 calories.

Recommended Serving Size: 3 oz. (Approximately 240 cal.)
Total Servings: Approximately 42
Items Used
Below are a few of the items used to create the finished result. The curated items below and ingredients above have been carefully selected and represent what we believe to be the best balance between quality and cost.