2020-10-31 15:47:20
Seattle, WA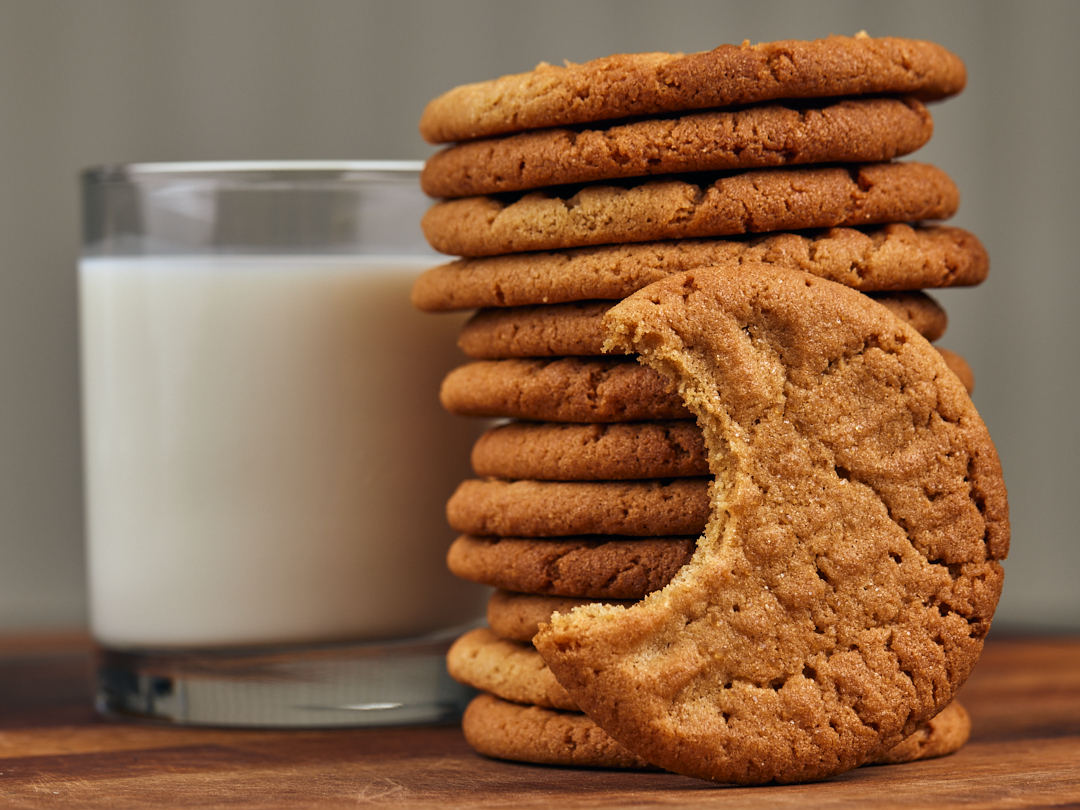 Ingredients
| Amount | Ingredient | Calories | Link |
| --- | --- | --- | --- |
| 3 cups | All Purpose Flour | 1443 | |
| 1 tsp. | Baking Powder | 4 | |
| 1 tsp. | Cornstarch | 11 | |
| 1 tsp. | Baking Soda | 0 | |
| 1 tsp. | Kosher Salt | 0 | |
| 1 cup | Salted Butter | 1629 | Buy Fresh! |
| 1 cup | Brown Sugar | 679 | |
| 1 cup | Sugar | 761 | |
| 1 cup | Peanut Butter | 1518 | |
| 1 tbsp. | Vanilla Extract | 38 | |
| 2 whole | Eggs | 156 | Buy Fresh! |
| 1/4 cup | Turbinado Sugar | 138 | |
Preparation
In a large mixing bowl sift together the all purpose flour, baking soda, baking powder, kosher salt, and cornstarch. Mix well and combine.

Using a stand-up electric mixer beat together the softened salted butter, white, and brown sugar until the batter is light and fluffy. Mix in the peanut butter until the batter is creamy. Add the vanilla extract and mix well. Continue to mix the batter, adding one egg at a time.

When complete reduce the mixer speed to low and slowly add the remainder of the dry ingredients. Mix the batter until all of the ingredients are incorporated evenly. Cover the bowl with plastic wrap and chill in the refrigerator for 1 hour.

Take the batter out of the refrigerator and roll the dough into round balls using about 1 1/2 tablespoons of batter. Place the cookie balls on baking sheets using a silicone mat or parchment paper. Press a crisscross pattern into each cookie with a fork and slightly flatten them.
Step 1 - Pre Heat
Heating Elements: Rear
Sous Vide Mode: Off
Temperature: 350 °F
Steam: Off
Bake the cookies for 13 minutes.
Step 2 - Bake
Heating Elements: Rear
Sous Vide Mode: Off
Temperature: 350 °F
Steam: Off
Time:
13 Minutes
When done the cookies will have nice golden color and the edges will be slightly darker than the center. Cool the cookies for a few minutes on a baking tray, then place them on a drying rack and let them cool completely. Serve with a glass of cold milk or your favorite beverage, enjoy!
Parings
Pair this treat with a Tawny Port or Prosecco if you prefer something bubbly.
Nutrition
A single cookie is roughly 130 calories.

Recommended Serving Size: 1 cookie (Approximately 130 cal.)
Total Servings: Approximately 48
Items Used
Below are a few of the items used to create the finished result. The curated items below and ingredients above have been carefully selected and represent what we believe to be the best balance between quality and cost.