2020-11-04 21:19:04
Seattle, WA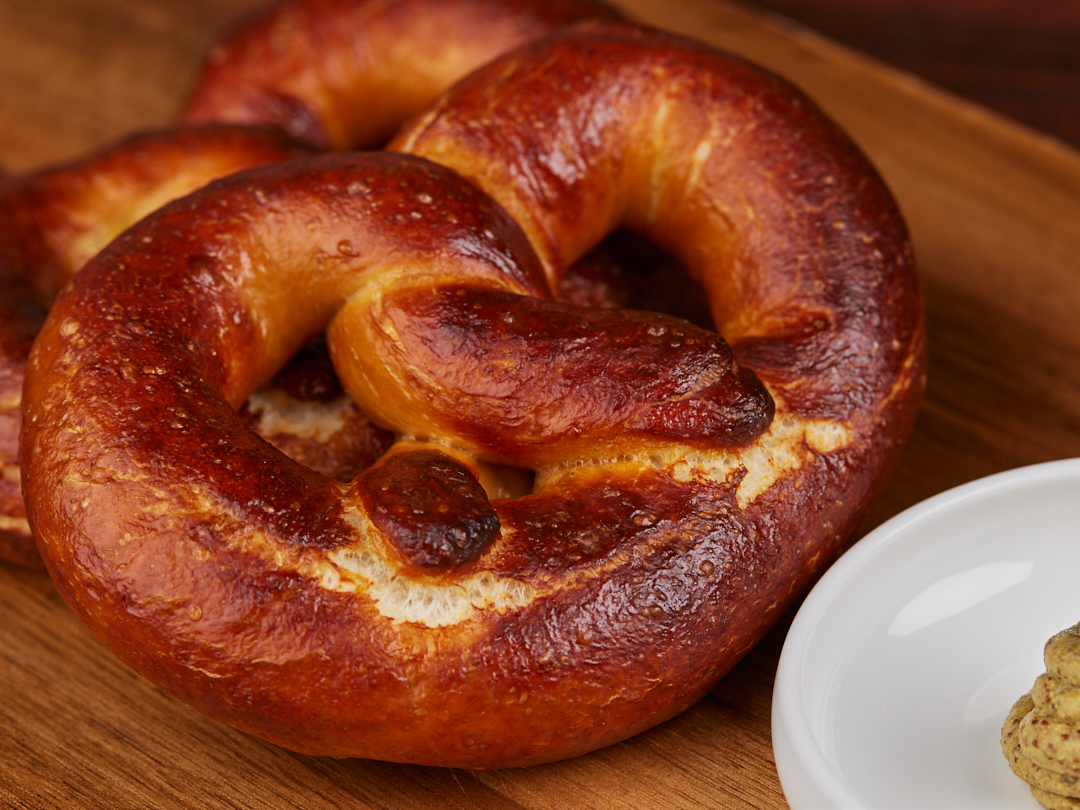 Ingredients
| Amount | Ingredient | Calories | Link |
| --- | --- | --- | --- |
| 1 1/2 cups | Water | 0 | Use Fresh Water! |
| 1 tbsp. | Brown Sugar | 43 | |
| 2 tsp. | Active Dry Yeast | 24 | |
| 2 tsp. | Kosher Salt | 0 | |
| 4 tbsp. | Salted Butter | 408 | Buy Fresh! |
| 2/3 cup | Baking Soda | 0 | |
| 4 1/2 cups | All Purpose Flour | 2165 | |
| 1 whole | Egg (Yolk Only) | 78 | Buy Fresh! |
| 1/2 tsp. | Olive Oil | 20 | |
| 1 tbsp. | Sea Salt | 0 | |
Preparation
Whisk together warm water and brown sugar until the sugar is dissolved. Add the yeast and mix well. Let the mixture sit at room temperature for 15 minutes until it begins to bubble.

Add the kosher salt and melted butter, mix to combine. Add the flour. Using a stand mixer and dough attachment, mix on low speed until well combined. Next, change to medium speed and knead the dough for 5 minutes until the dough is smooth and cleanly pulls away from the side of the bowl.

Remove the dough from the bowl and shape it into a ball. Oil a medium sized mixing bowl with olive oil and insert the dough. Cover the dough with plastic wrap and set aside in a warm place to rise for 60 minutes until doubled in size.

Turn the dough out onto a lightly oiled surface and divide it into 8 equal pieces. Roll each piece into a 24-inch rope. Shape each rope into a pretzel. Place the shaped pretzel on a parchment lined sheet and cover with a clean kitchen towel. Spritz some water on the towels so they stay moist as this will protect the pretzel dough from drying out. Let the pretzels rise for 45 minutes at the room temperature.

When ready to bake, boil 10 cups of water in a large sauté pan. Add the baking soda. Meanwhile, whisk one egg yolk with 1 tablespoon of water. Pre-heat the Anova Precision Oven.
Step 1 - Pre Heat
Heating Elements: Rear
Sous Vide Mode: Off
Temperature: 450 °F
Steam: 100%
While the oven is pre-heating, one by one, place the pretzels in the boiling water for 30 seconds. Remove them from the water using a large flat spatula or a skimmer. Place the pretzels on a cooling rack to drain the excess water. Then transfer the boiled pretzels to a sheet pan lined with parchment paper. Brush the top of each pretzel with the yolk and water mixture and sprinkle with salt.
Step 2 - Bake
Heating Elements: Rear
Sous Vide Mode: Off
Temperature: 450 °F
Steam: 100%
Time:
12 Minutes
Bake the pretzels in the oven for 12 minutes until dark brown in color. Remove the pretzels from the oven and place them on a wire rack to cool for at least 5 minutes before serving.
Parings
A Chardonnay or Pinot Noir pair well with soft pretzels. A cold beer works wonders as well.
Nutrition
A single pretzel weighs in at 310 calories.

Recommended Serving Size: 1 pretzel (Approximately 310 cal.)
Total Servings: Approximately 8
Items Used
Below are a few of the items used to create the finished result. The curated items below and ingredients above have been carefully selected and represent what we believe to be the best balance between quality and cost.