2020-11-09 08:46:32
Seattle, WA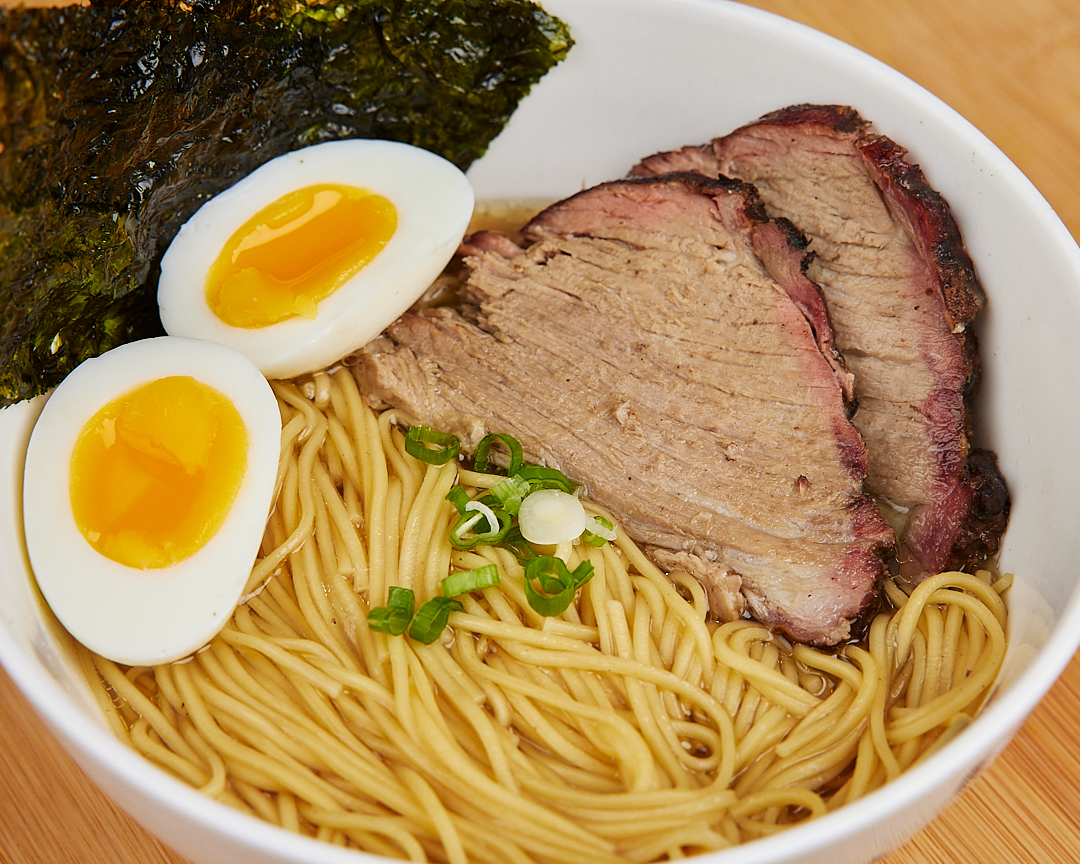 Ingredients
| Amount | Ingredient | Calories | Link |
| --- | --- | --- | --- |
| 1 lbs. | Beef Oxtail | 3056 | Buy Fresh! |
| 1 cup | Onion | 64 | Buy Fresh! |
| 4 oz. | Ginger | 73 | Buy Fresh! |
| 1 tbsp. | Kosher Salt | 0 | |
| 1 tbsp. | Black Pepper | 19 | |
| 1 tbsp. | Fennel Seeds | 2 | |
| 1 tbsp. | Coriander Seeds | 17 | |
| 1 tsp. | Cloves | 8 | |
| 1/8 tsp. | Cardamom Pod | 1 | |
| 1 tbsp. | Sugar | 48 | |
| 1 tbsp. | Star Anise | 2 | |
| 1/2 lbs. | Pork Shoulder | 609 | Buy Fresh! |
| 1 cup | Ramen Noodles | 188 | |
Preparation
It's that time of the year in Seattle when things start to cool down and the rain's back in full force. A hot bowl of ramen turns a cold and soggy day into a warm and cozy evening filled with umami goodness. Below is our version of ramen, quick and easy.

In a large stock pot add the beef oxtail and parboil. The purpose of parboiling is to remove any impurities from the beef oxtail. We do this by quickly boiling the beef oxtail for a minute or two, drain all of the liquid and impurities that rise to the top, then refill wish fresh clean water to finish the cook.

Once the beef oxtail is returned to the stove with fresh clean water add a whole onion cut in half, 4 inch piece of ginger cut in half, kosher salt, freshly ground black pepper, fennel seeds, coriander seeds, cloves, crushed cardamom pod, sugar, and star anise. Some like to optionally toast their ingredients prior to cooking the broth which adds a nice smoky flavor. Set the heat to high and bring to a boil. Once the broth is at a boil reduce the temperature to low and simmer for approximately 8 hours.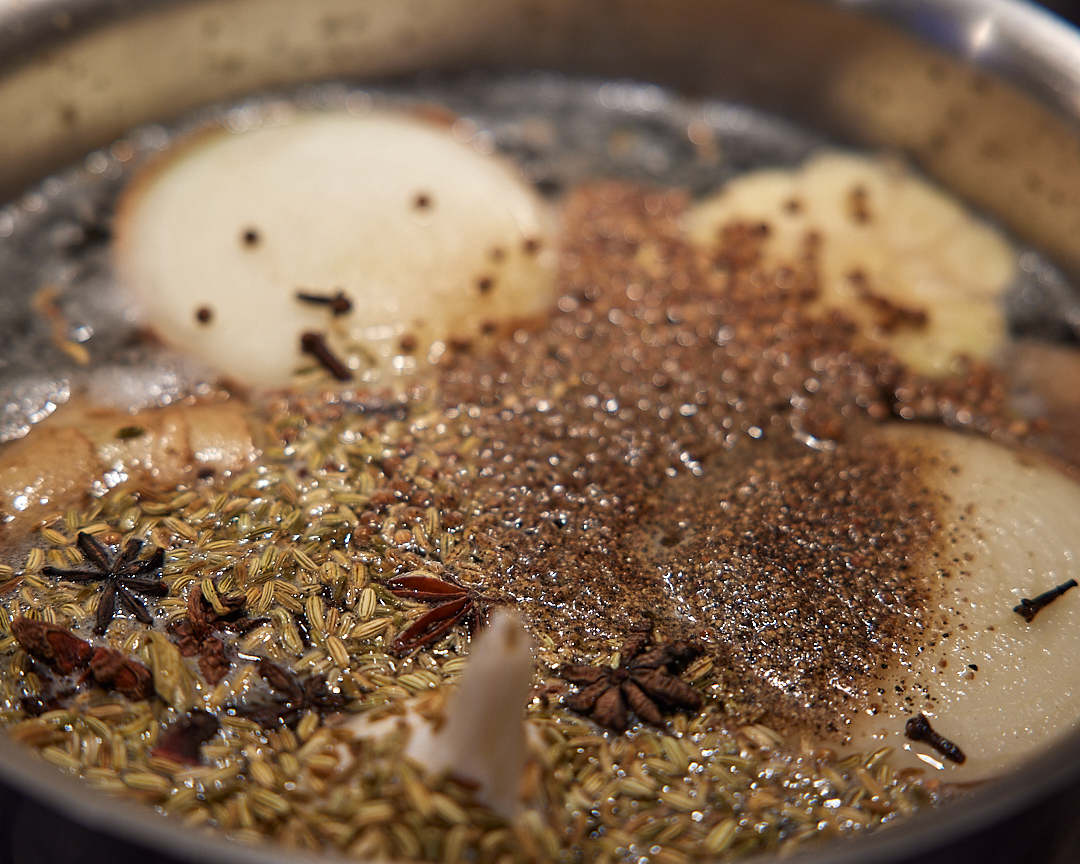 At the 8 hour mark we'll want to taste the broth to adjust seasoning if necessary with a pinch or two of salt. We also want to check the beef oxtail for doneness. The meat should easily pull away from the bone. At this point we'll begin to heat our pork shoulder. We used some leftovers from our BBQ pork recipe and threw them into the pot.

Bring another pot of water to a boil with some salt. We will use this to cook the ramen noodles. Cook the ramen noodles until tender, drain, and placed into a large soup bowl.

Add enough broth to cover the ramen. Garnish with the heated pork shoulder, beef oxtail, and your favorite sides. Serve and enjoy.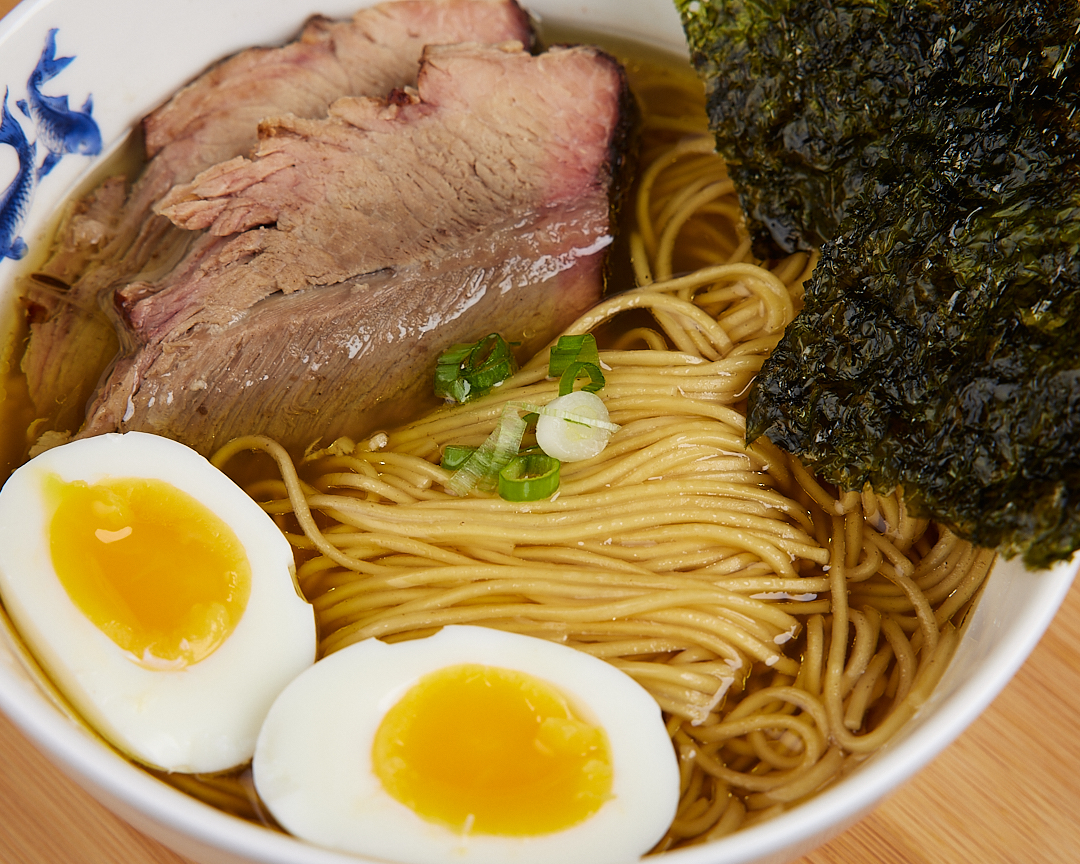 Parings
A nice bottle of Pinot Noir or Pino Gris pairs amazingly well with the ramen.
Nutrition
A serving of ramen with broth is about 188 calories and the BBQ pork shoulder and beef oxtail adds another 248/191 calories respectively.

Recommended Serving Size: 1 bowl of ramen with 3 ounces of BBQ pork shoulder and 3 ounces of beef oxtail. (Approximately 627 cal.)
Total Servings: Approximately 4
Items Used
Below are a few of the items used to create the finished result. The curated items below and ingredients above have been carefully selected and represent what we believe to be the best balance between quality and cost.