2020-11-20 13:07:35
Seattle, WA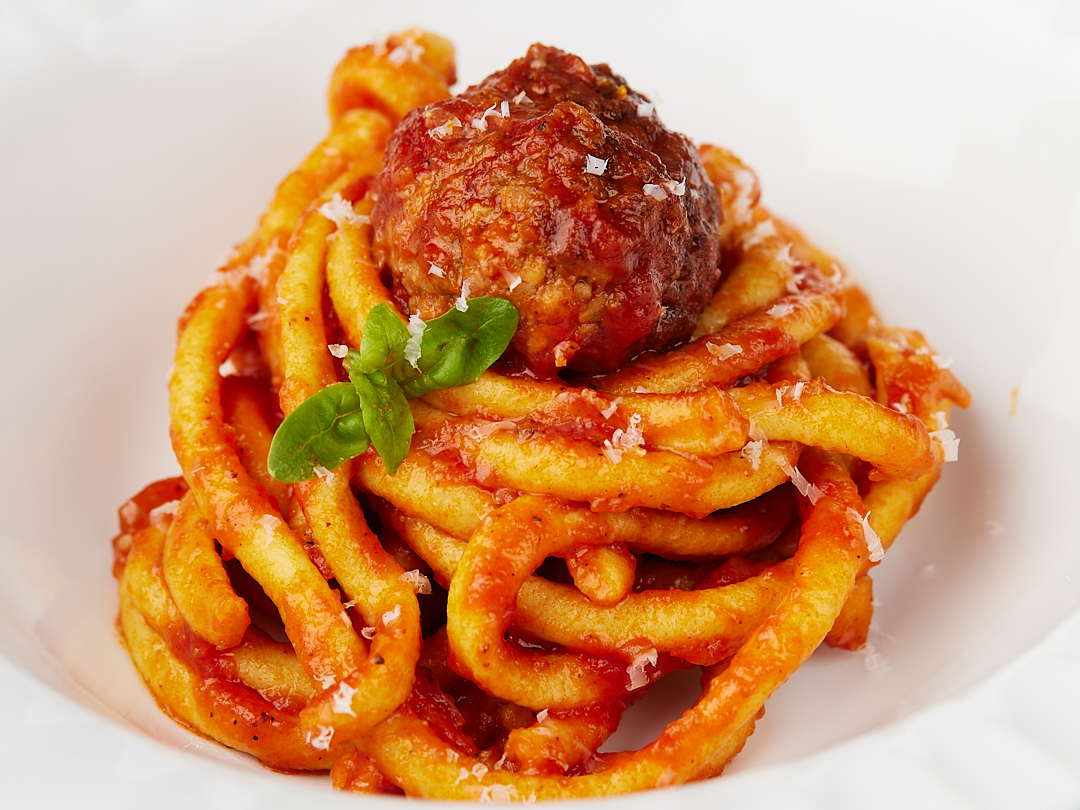 Ingredients
| Amount | Ingredient | Calories | Link |
| --- | --- | --- | --- |
| 1 lbs. | Ground Beef | 1068 | Buy Fresh! |
| 1 lbs. | Ground Pork | 1904 | Buy Fresh! |
| 1 tsp. | Kosher Salt | 0 | |
| 1 tsp. | Black Pepper | 7 | |
| 1 tsp. | Garlic Powder | 5 | |
| 1 tsp. | Onion Powder | 9 | |
| 28 oz. | Tomato Sauce | 228 | Buy Fresh! |
| 3 oz. | Tomato Paste | 70 | Buy Fresh! |
| 1 cup | Onion | 64 | Buy Fresh! |
| 2 tsp. | Garlic Cloves | 9 | Buy Fresh! |
| 1 tbsp. | Parmesan Cheese | 37 | |
| 120 grams | 00 Flour | 437 | |
| 80 grams | Semolina Flour | 288 | |
| 1/2 tsp. | Kosher Salt | 0 | |
| 2 whole | Eggs | 156 | Buy Fresh! |
| 2 oz. | Smoked Bacon | 303 | Buy Fresh! |
Preparation
Mix together 00 flour, semolina flour, and 1/2 teaspoon of salt. Sift the mixture through fine mesh strainer.
Make a well in the middle of the flour and add 2 eggs. Using a spoon, beat together the eggs and begin to incorporate the flour starting with the inner rim of the well. Keep mixing the eggs and the flour in a circular motion until the dough comes together in a thick rough dough. Then using your hands knead the dough for 3-5 minutes. The dough will be elastic but still a little bit sticky. Wrap the dough with a plastic wrap and let it rest at the room temperature for 30 minutes.
When the pasta dough is rested, roll the dough and shape into preferred pasta shape.
In a large mixing bowl, combine the ground beef, ground pork, one teaspoon of kosher salt, one teaspoon of freshly ground black pepper, garlic powder, and onion powder. Using your hands gently mix all of the ingredients. Shape the mixture into evenly sized meatballs.
Heat the cast iron skillet on medium high heat. When the skillet is hot turn the heat to low and add in sliced bacon. When the bacon starts to brown on one side flip it over until it browns evenly. Remove the bacon from the skillet and place it onto paper towels to drain the excess fat. Place the formed meatballs in the skillet and sear continuously turning until the entire meatball is evenly golden brown. Remove the meatballs from the cast iron skillet and set aside.
In a large skillet over medium heat, heat 2 tablespoons of olive oil. When the oil is hot, add the chopped onion and minced garlic. Cook the onion and garlic for 3 to 5 minutes until light in color. Meanwhile, cut the bacon into small strips. Next, stir in bacon strips, tomato sauce and tomato paste. Season the sauce with kosher salt and freshly ground black paper. Place the seared meatballs in the sauce and simmer for 30 minutes to an hour, until the meatballs are cooked all the way through.
Bring 3 quarts of water to a boil in a medium pot. Season with salt, add the pasta, and cook stirring occasionally until tender.
Toss drained pasta with a few ladles of sauce. Serve hot with meatballs and grated parmesan.
Parings
A glass of Chianti or Merlot pair well with this delicious meal.
Nutrition
One cup of fresh homemade pasta with 3 ounces of meatballs and sauce is approximately 890 calories.

Recommended Serving Size: 1 cup pasta, 3 oz. meatballs with sauce (Approximately 890 cal.)
Total Servings: Approximately 4
Items Used
Below are a few of the items used to create the finished result. The curated items below and ingredients above have been carefully selected and represent what we believe to be the best balance between quality and cost.