2020-12-01 21:49:12
Seattle, WA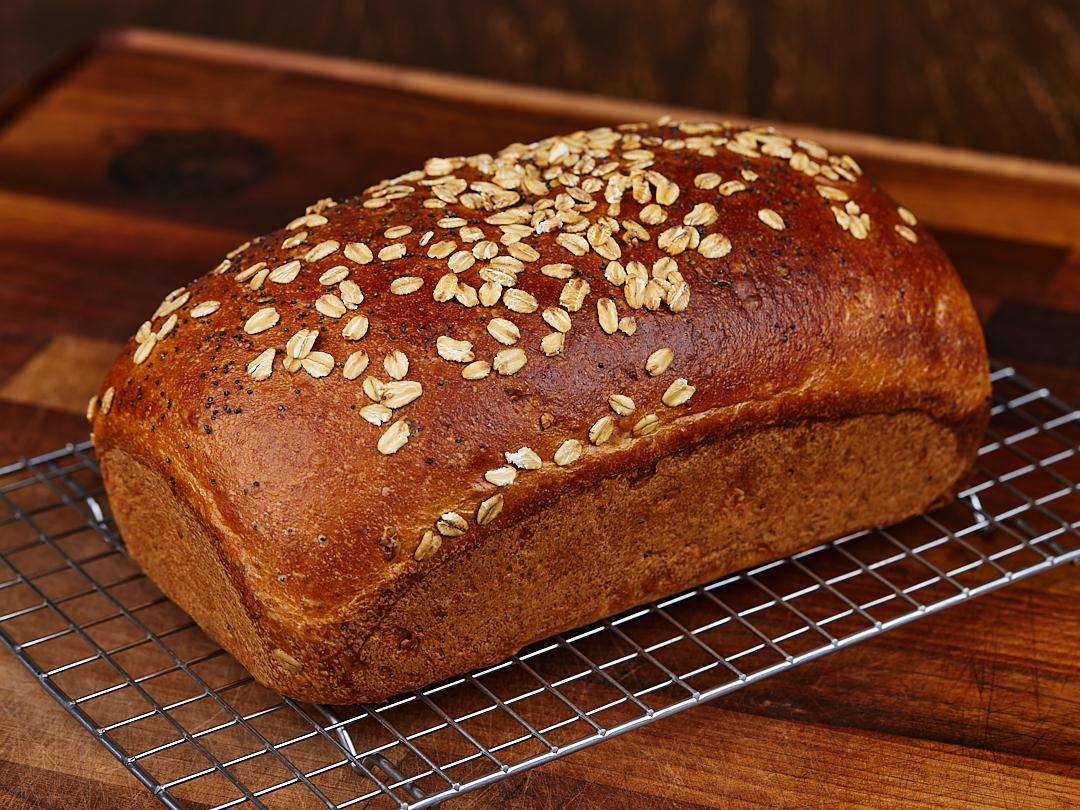 Ingredients
| Amount | Ingredient | Calories | Link |
| --- | --- | --- | --- |
| 1 cup | Milk | 103 | Buy Fresh! |
| 1/4 cup | Water | 0 | Use Fresh Water! |
| 1 tbsp. | Honey | 65 | |
| 1/3 cup | Old Fashioned Oats | 99 | |
| 2 tsp. | Active Dry Yeast | 24 | |
| 2 tsp. | Kosher Salt | 0 | |
| 3 tbsp. | Salted Butter | 306 | Buy Fresh! |
| 2 whole | Eggs | 156 | Buy Fresh! |
| 1 tbsp. | Olive Oil | 120 | |
| 2 tbsp. | Milk Powder | 80 | |
| 3 cups | Bread Flour | 1365 | |
| 1 cup | Whole Wheat Flour | 408 | |
| 2 tbsp. | Flaxseed Meal | 7 | |
| 1 tbsp. | Poppy Seeds | 46 | |
| 2 tbsp. | Old Fashioned Oats | 38 | |
| 1 tbsp. | Poppy Seeds | 46 | |
Preparation
Whisk together warm milk, water, honey, 1/3 cup of old fashioned rolled oats, and active dry yeast. Let the mixture sit at room temperature for 10 minutes.
Next, add in the melted butter, olive oil, kosher salt, one egg, and whisk all the ingredients together. Sift the dry milk powder, bread flour, whole wheat flour, and flaxseed meal through a sieve. Mix the flour mixture with the wet ingredients. Knead the dough for 2 minutes then add one tablespoon of poppy seeds. Continue to knead the dough for 8 minutes by hand or using a dough hook on an electric stand-up mixer.
Remove the dough from the mixing bowl and shape it into a ball. Apply a light coat of olive oil in a medium size mixing bowl and insert the dough. Cover the dough with plastic wrap and put it in a warm place to rise for about 2 hours, or until doubled in size.
Remove the dough from the bowl and gently deflate it. Shape the dough into a 9 inch log. Place the pre-shaped dough into a lightly greased bread pan. Cover the pan with the plastic wrap and let it rise for 60 minutes. When the dough is crowned one inch over the rim of the pan, pre-heat the oven.
Step 1 - Pre Heat
Heating Elements: Rear
Sous Vide Mode: Off
Temperature: 350 °F
Steam: 100%
Beat one egg with one tablespoon of water. Brush the top of the loaf with egg wash and sprinkle old fashioned oats and sesame seeds on top. Place the bread into the oven and bake for 20 minutes with 100% steam.
Step 2 - Bake With Steam
Heating Elements: Rear
Sous Vide Mode: Off
Temperature: 350 °F
Steam: 100%
Time:
20 Minutes
After baking the bread for 20 minutes with 100% stream reconfigure your oven to turn the steam off and bake the bread for another 15 minutes.
Step 3 - Bake Without Steam
Heating Elements: Rear
Sous Vide Mode: Off
Temperature: 350 °F
Steam: Off
Time:
15 Minutes
When the top of the bread has reached a nice golden brown color, remove the loaf from the oven and cool it on a wire rack. Let the bread cool completely before slicing to preserve a nice even texture.
Nutrition
One slice of sandwich bread is roughly equal to 175 calories.

Recommended Serving Size: 1 slice. (Approximately 175 cal.)
Total Servings: Approximately 16
Items Used
Below are a few of the items used to create the finished result. The curated items below and ingredients above have been carefully selected and represent what we believe to be the best balance between quality and cost.