2020-12-01 21:49:54
Seattle, WA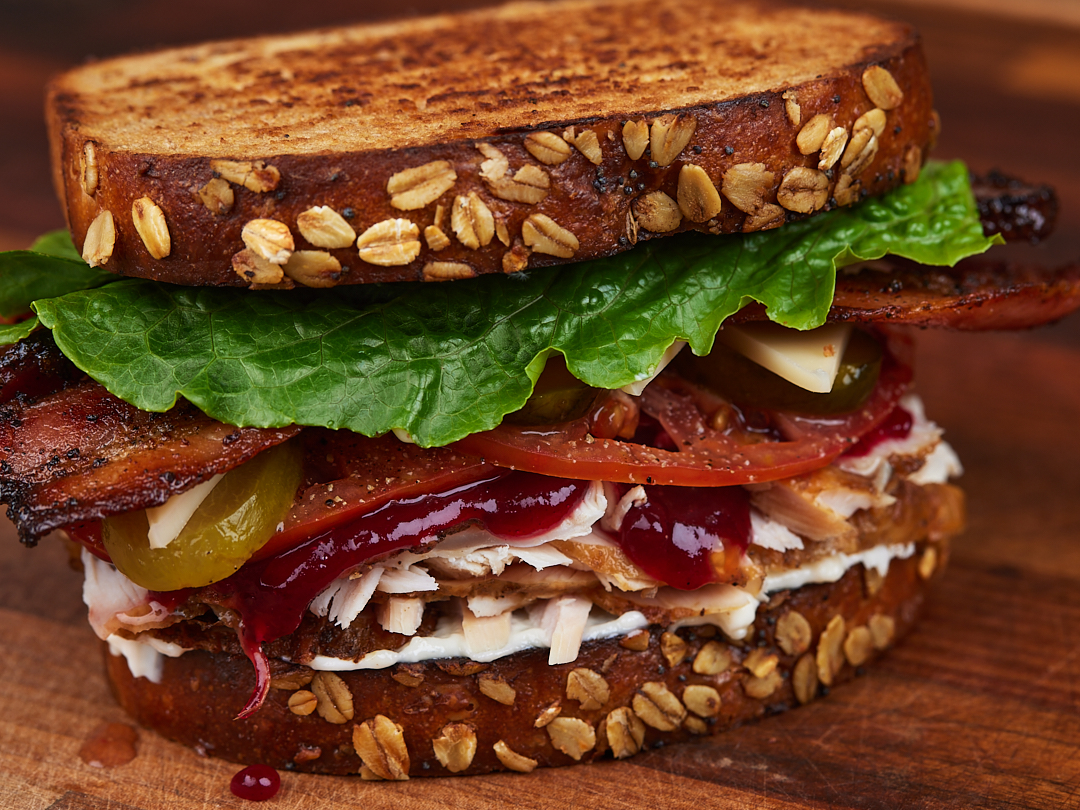 Ingredients
| Amount | Ingredient | Calories | Link |
| --- | --- | --- | --- |
| 1/2 lbs. | Turkey Breast | 432 | Buy Fresh! |
| 1 tbsp. | Cranberry Sauce | 27 | Buy Fresh! |
| 2 oz. | Tomatos | 6 | Buy Fresh! |
| 1 oz. | Dill Pickles | 4 | Buy Fresh! |
| 2 oz. | Swiss Cheese | 215 | Buy Fresh! |
| 2 oz. | Bacon | 303 | Buy Fresh! |
| 1 oz. | Lettuce | 4 | Buy Fresh! |
| 2 slices | Bread | 140 | Buy Fresh! |
Preparation
The best part of Thanksgiving is the leftover turkey. I'm not really sure why, however, we can't get enough of the stuff. Soon as the turkey comes out of the oven everyone's fighting over the perfectly crisp pieces of turkey hanging off the sides. During the actual thanksgiving meal you always go for a second helping. As things wind down and before you go to bed a couple more bites are snuck in while no one else is looking. No matter how much turkey everyone eats there always leftovers which we absolutely look forward to using. First up is the turkey sandwich.

First we'll toast 2 slices of bread until a nice color develops. When the bread cools apply an even coating of mayonnaise. Pile on the shaved turkey, cranberry sauce, tomatoes, pickles, cheese, bacon, lettuce, and finally the other slice of bread. Slice in half and enjoy!
Nutrition
A single turkey sandwich with all of the fixings has about 1131 calories.

Recommended Serving Size: 1/2 sandwich (Approximately 566 cal.)
Total Servings: Approximately 2
Items Used
Below are a few of the items used to create the finished result. The curated items below and ingredients above have been carefully selected and represent what we believe to be the best balance between quality and cost.