2020-12-01 21:52:33
Seattle, WA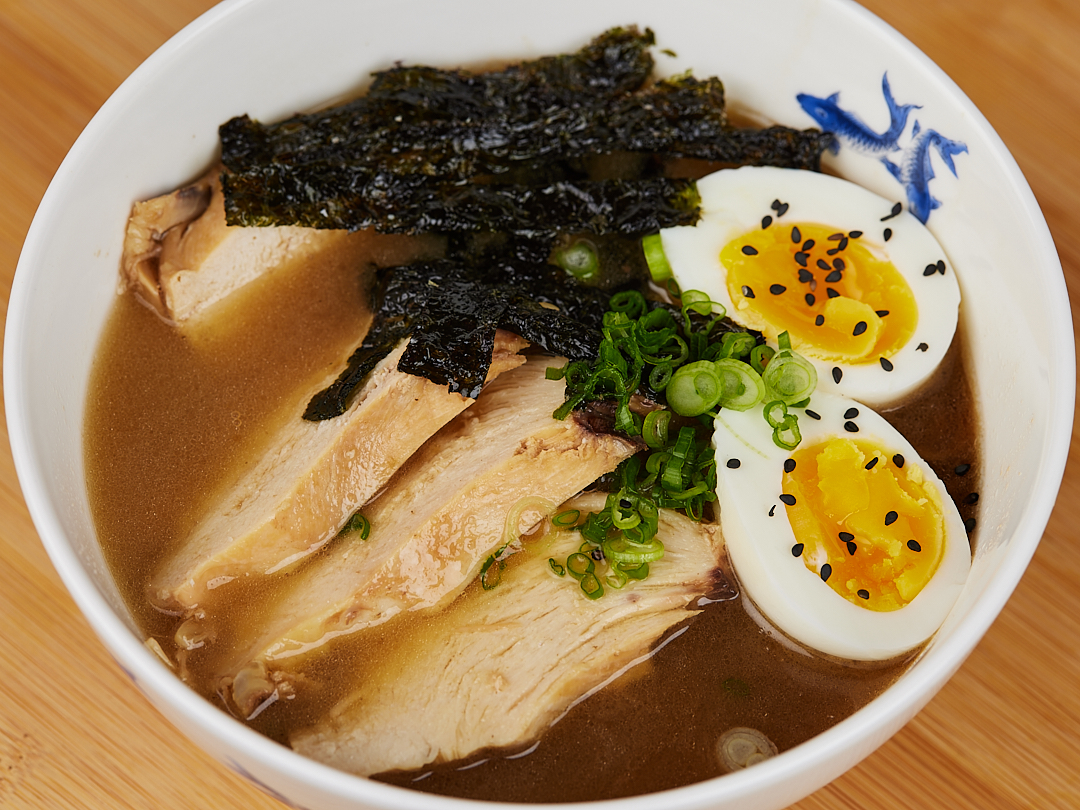 Ingredients
| Amount | Ingredient | Calories | Link |
| --- | --- | --- | --- |
| 4 lbs. | Whole Chicken | 4048 | Buy Fresh! |
| 2 cups | Onion | 128 | Buy Fresh! |
| 4 tbsp. | Garlic Clove | 51 | Buy Fresh! |
| 2 tbsp. | Kosher Salt | 0 | |
| 1 tbsp. | Black Pepper | 19 | |
| 2 tbsp. | Ginger | 37 | Buy Fresh! |
| 1/2 cup | Chicken Broth | 22 | |
| 1/4 cup | Mirin | 144 | Buy Fresh! |
| 1/2 cup | Soy Sauce | 58 | |
| 2 tbsp. | Sake | 39 | Buy Fresh! |
| 1 tsp. | Brown Sugar | 15 | |
| 1 tsp. | Rice Wine Vinegar | 1 | |
| 1 tbsp. | Ginger | 19 | Buy Fresh! |
| 1 whole | Garlic Clove | 0 | Buy Fresh! |
| 1 tbps. | Scallion | 32 | Buy Fresh! |
Preparation
In a large stock pot place a whole chicken, one onion cut in half, one inch piece of ginger cut in half, and one bulb of garlic with skin on. Fill the pot with water until all ingredients are submerged and place over high heat and bring to a boil. Once the broth is at a boil reduce the heat to simmer and cook for 4 hours.
At the 2 hour mark, remove the chicken, cut and set aside the chicken breast for use later. Put the remaining chicken back into the pot and continue simmering for another 2 hours. Season the broth with salt and pepper.
Meanwhile, prepare a shoyu tare. The word "tare" is a Japanese word for sauce and is used to season the ramen broth. In a medium saucepan combine 1/2 cup of chicken broth, 1/2 cup of mirin, 1/2 cup of soy sauce, two tablespoons of sake, one teaspoon of brown sugar, one teaspoon of rice wine vinegar, one inch piece peeled ginger, one garlic clove, and one chopped scallion. Cook the shoyu tare over medium heat for a few minutes to dissolve the sugar and incorporate all of the ingredients. Remove from heat and let it cool to room temperature.
At the 4 hour mark it is time to taste the broth and adjust seasoning if necessary. In addition, check the chicken for doneness. The meat should easily pull away from the bones. Bring another pot of water to a boil with some salt. Cook the ramen noodles until tender.
To serve add 2 tablespoons of shoyu tare in a large soup bowl. Add the ramen noodles and pour hot broth over the noodles until covered. Top with several slices of chicken breast, one soft boiled egg cut in half, shredded seaweed, and garnish with green onions. Serve and enjoy.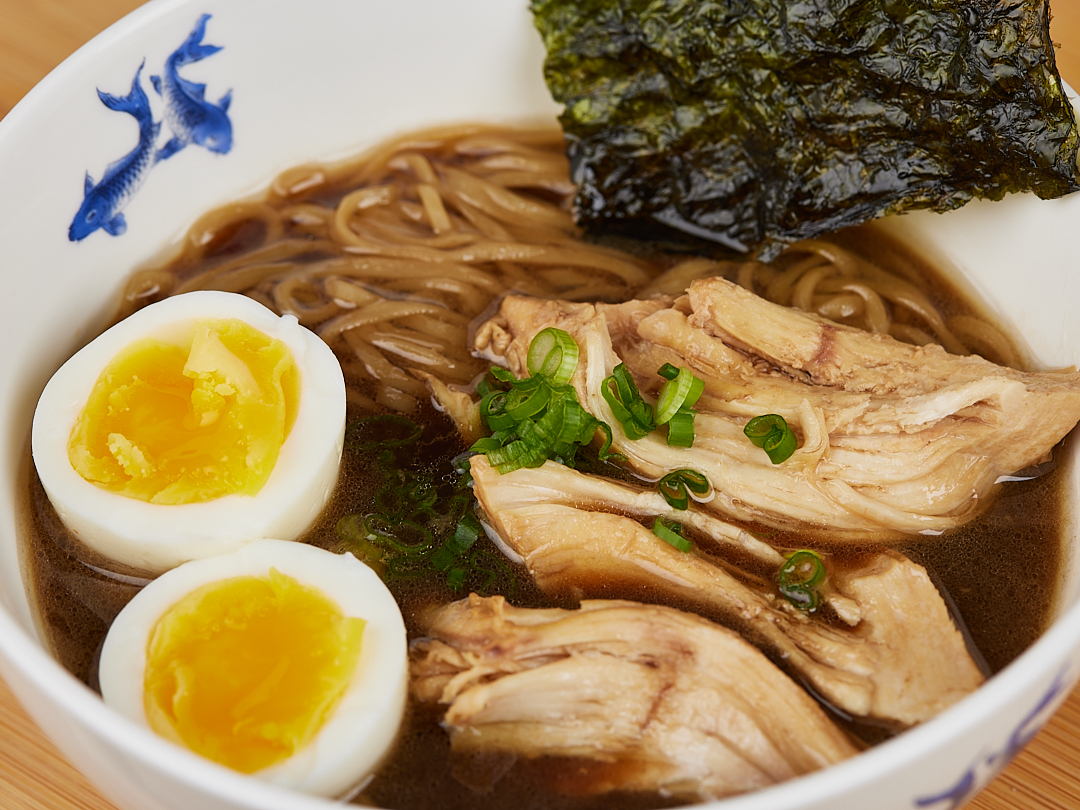 Nutrition
A serving of ramen with broth is about 130 calories and the chicken breast adds another 128 calories respectively.

Recommended Serving Size: 1 bowl of ramen with 3 ounces of chicken breast (Approximately 258 cal.)
Total Servings: Approximately 4
Items Used
Below are a few of the items used to create the finished result. The curated items below and ingredients above have been carefully selected and represent what we believe to be the best balance between quality and cost.