2020-12-01 21:53:28
Seattle, WA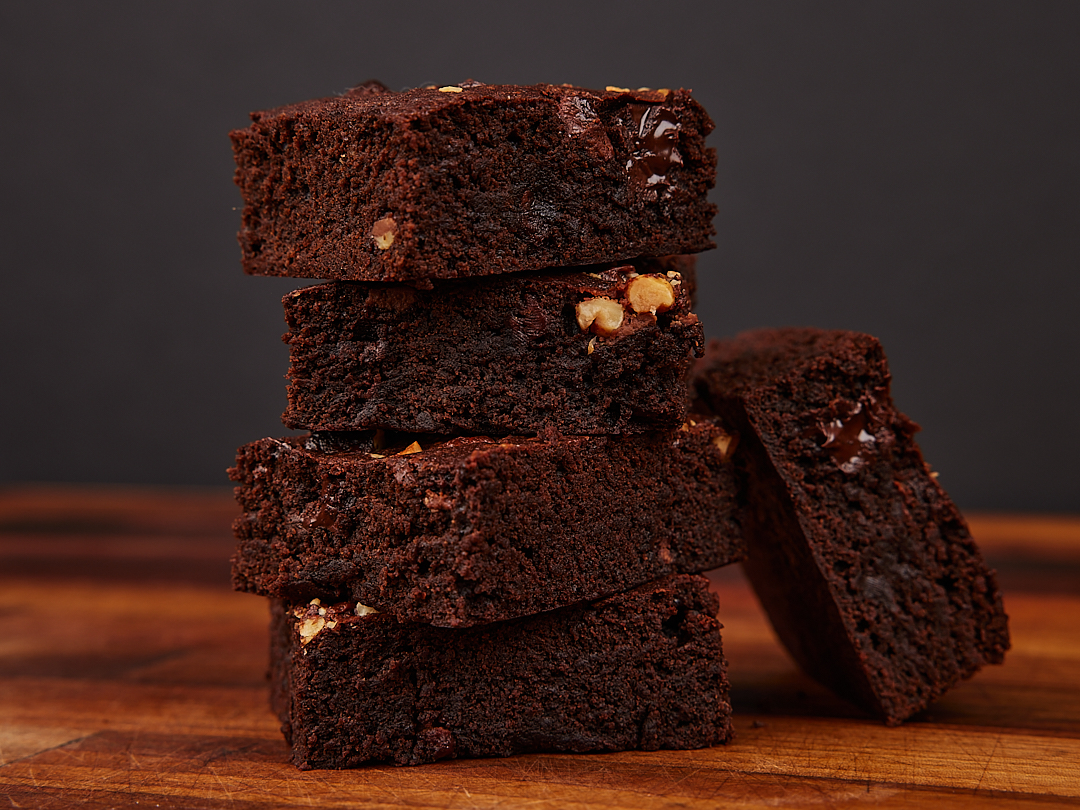 Ingredients
| Amount | Ingredient | Calories | Link |
| --- | --- | --- | --- |
| 1 cup | Salted Butter | 1629 | Buy Fresh! |
| 2 tbsp. | Peanut Oil | 239 | |
| 1 1/4 cup | Sugar | 952 | |
| 1 cup | Brown Sugar | 679 | |
| 4 whole | Eggs | 312 | Buy Fresh! |
| 1 tbsp. | Vanilla Extract | 38 | |
| 3/4 tsp. | Kosher Salt | 0 | |
| 1 cup | All Purpose Flour | 481 | |
| 1 cup | Unsweetened Cocoa Powder | 196 | |
| 113 grams | Dark Chocolate | 678 | |
| 113 grams | Milk Chocolate With Hazelnuts | 617 | |
Preparation
In a medium size mixing bowl, combine together melted butter, peanut oil, white and brown sugar. Add the eggs and vanilla extract, and whisk until lighter in color. Roughly chop dark and milk chocolate into chunks and set aside for later use.
In a separate mixing bowl, sift flour, cocoa powder, and salt. Gently fold the flour mixture into the wet ingredients until combined. Fold in all of the dark chocolate and half of the milk chocolate. Pour the batter into the pre-greased and parchment paper lined baking pan. Smooth the top of the batter with a spatula and top with the remaining chocolate. Pre heat the Anova Precision Oven using the settings below.
Step 1 - Pre Heat
Heating Elements: Rear
Sous Vide Mode: Off
Temperature: 350 °F
Steam: Off
Bake the brownies for 25 minutes or until the center of the brownies in the pan no longer jiggles. If testing with a toothpick, the toothpick should come out slightly dirty.
Step 2 - Bake
Heating Elements: Rear
Sous Vide Mode: Off
Temperature: 350 °F
Steam: Off
Time:
25 Minutes
Remove the brownies from the oven and let it cool for about 20 minutes. Then remove them out of the pan and allow to cool to room temperature before slicing them into brownies.
Nutrition
One piece of chocolate brownie is approximately 292 calories.

Recommended Serving Size: 1 brownie (Approximately 292 cal.)
Total Servings: Approximately 20
Items Used
Below are a few of the items used to create the finished result. The curated items below and ingredients above have been carefully selected and represent what we believe to be the best balance between quality and cost.