2020-12-15 12:29:16
Seattle, WA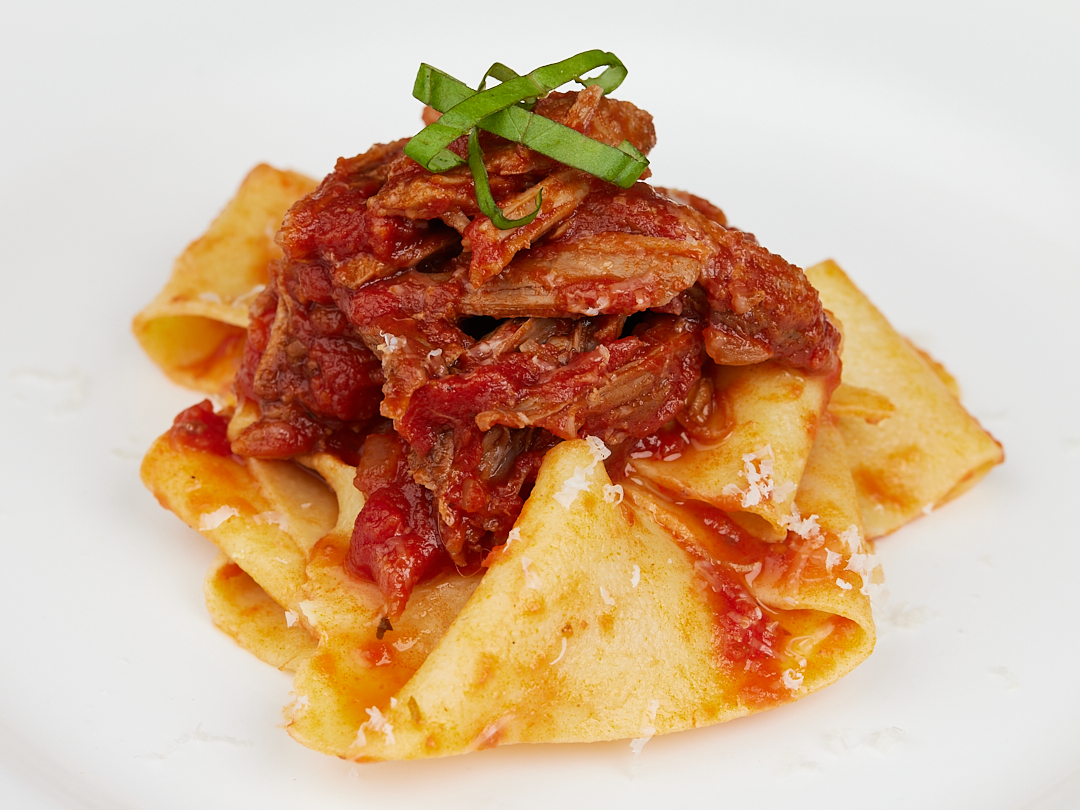 Ingredients
| Amount | Ingredient | Calories | Link |
| --- | --- | --- | --- |
| 6 lbs. | Pork Shoulder | 7302 | Buy Fresh! |
| 1 tbsp. | Kosher Salt | 0 | |
| 1 tbsp. | Black Pepper | 19 | |
| 1 tbsp. | Garlic Powder | 13 | |
| 1 tbsp. | Paprika | 20 | |
| 8 oz. | Fresh Pasta | 475 | Buy Fresh! |
| 1 cup | Onion | 64 | Buy Fresh! |
| 1 cup | Carrots | 172 | Buy Fresh! |
| 2 tbsp. | Garlic Cloves | 26 | Buy Fresh! |
| 1 cup | Red Wine | 200 | Buy Fresh! |
| 28 oz. | Canned Tomatoes (Crushed) | 81 | Buy Fresh! |
| 28 oz. | Tomatoes (Whole) | 81 | Buy Fresh! |
| 1 tsp. | Oregano | 5 | |
| 1 tsp. | Kosher Salt | 0 | |
| 1 tsp. | Black Pepper | 7 | |
Preparation
Generously season the pork shoulder with kosher salt, freshly ground black pepper, garlic powder, onion powder, and paprika. Smoke over hot coals and hickory wood chunk until an internal temperature of 180 °F is reached. When the pork shoulder reaches your desired internal temperature remove from the smoker and allow to rest for 10 minutes. Cut the pork shoulder into large chunks.
In a large skillet sauté the chopped onion, chopped carrots, and minced garlic until onion is translucent. Add the red wine and increase the heat to medium-high and simmer for 5 minutes. Next, add the pureed tomatoes to the skillet along with oregano, kosher salt, and freshly ground black pepper. Add the smoked pork and bring the sauce to a simmer and cover. Cook the sauce for 2 hours, stirring occasionally, until the pork is tender and pulls apart.
Remove the pork shoulder chunks from the sauce and shred it by pulling the pieces apart with two forks. Once the pork is shredded, add it back to the sauce and season the sauce with additional salt and black pepper to taste. Let the sauce simmer while you cook the pasta.
Cook fresh homemade pasta in a pot of boiling water and a pinch salt until done. Toss cooked pasta with a few tablespoons of sauce and serve hot with smoked pork and freshly grated parmesan cheese.
Nutrition
A 4 ounce portion of pork shoulder with the sauce is about 383 calories. Add 4 ounces of fresh pasta and you are looking at about 620 calories per serving.

Recommended Serving Size: 3 oz. sauce, 4 oz. smoked pork and 4 oz. fresh pasta (Approximately 620 cal.)
Total Servings: Approximately 8
Items Used
Below are a few of the items used to create the finished result. The curated items below and ingredients above have been carefully selected and represent what we believe to be the best balance between quality and cost.