2020-12-20 14:06:26
Seattle, WA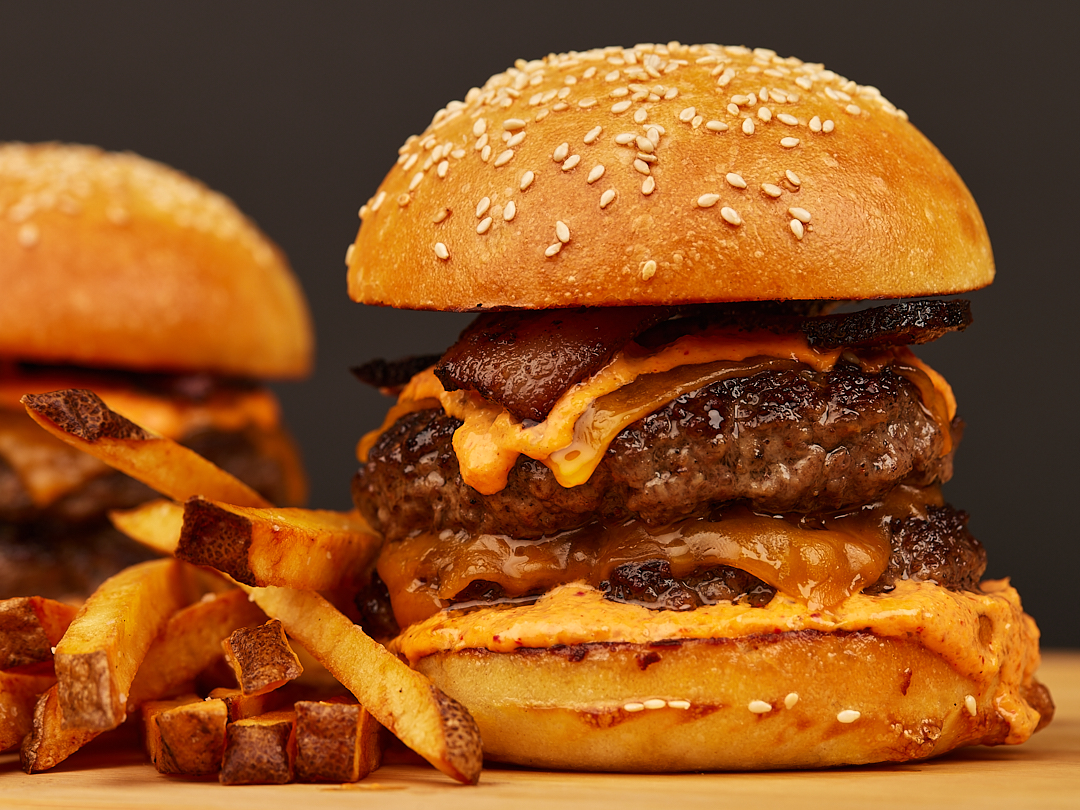 Ingredients
| Amount | Ingredient | Calories | Link |
| --- | --- | --- | --- |
| 1 lbs. | Ground Beef | 1068 | Buy Fresh! |
| 1/4 tsp. | Kosher Salt | 0 | |
| 1/4 tsp. | Black Pepper | 2 | |
| 2 oz. | Cheddar Cheese | 67 | Buy Fresh! |
| 2 oz. | Thick Cut Bacon | 303 | Buy Fresh! |
| 1/2 cup | Mayonnaise | 485 | |
| 1/2 cup | Kimchee | 12 | Buy Fresh! |
| 1 whole | Hamburger Bun | 128 | Buy Fresh! |
Preparation
We love Korean food, especially Korean BBQ. Nothing beats fresh well marbled slices of beef, pork, or chicken over hot coals. Korean meals are famous for Banchan, those little side dishes you get with every meal. The most popular Banchan is Kimchee, fermented Napa cabbage seasoned with Korean red chili peppers as one of the main ingredients. We took the best things we love about Korean BBQ for this Korean inspired kimchee burger with pork belly.
In a large bowl add the ground beef and season with salt and freshly ground black pepper. Mix well and shape into 4 1/4 pound beef patties. Next we will make the sauce.
In a food processor add the mayonnaise and kimchee. Process until the ingredients form a sauce. Season to taste with salt.
Next we will cook the pork belly. We used thick slices of pork belly, however, you may substitute with thick cut bacon if needed. Cook over medium heat until done. The goal is to cook the pork belly or bacon until chewy.
Finally, we will cook the beef patties. Over medium-high heat sear the beef patties until a nice crust and color develop. The goal is to lock in those juices and cook until the center is a perfect medium. When done remove from heat and allow to rest for at least 5 minutes.
Meanwhile in a non-stick pan toast both ends of the hamburger bun with butter. When toasted remove from heat and let cool. When ready to serve build the burger.
Start with the bottom bun and add a generous layer of kimchee sauce. Next we will add a beef patty followed by a slice of cheddar cheese. Follow up with another beef patty followed by another slice of cheddar cheese. On top of that add another generous layer of kimchee sauce. Place 2 strips of bacon and cover with the remainder of the hamburger bun. Serve and enjoy!
Nutrition
A single double meat kimchee burger with pork belly averages 1033 calories.

Recommended Serving Size: 1/2 burger (Approximately 517 cal.)
Total Servings: Approximately 2
Items Used
Below are a few of the items used to create the finished result. The curated items below and ingredients above have been carefully selected and represent what we believe to be the best balance between quality and cost.