2020-12-21 19:51:34
Seattle, WA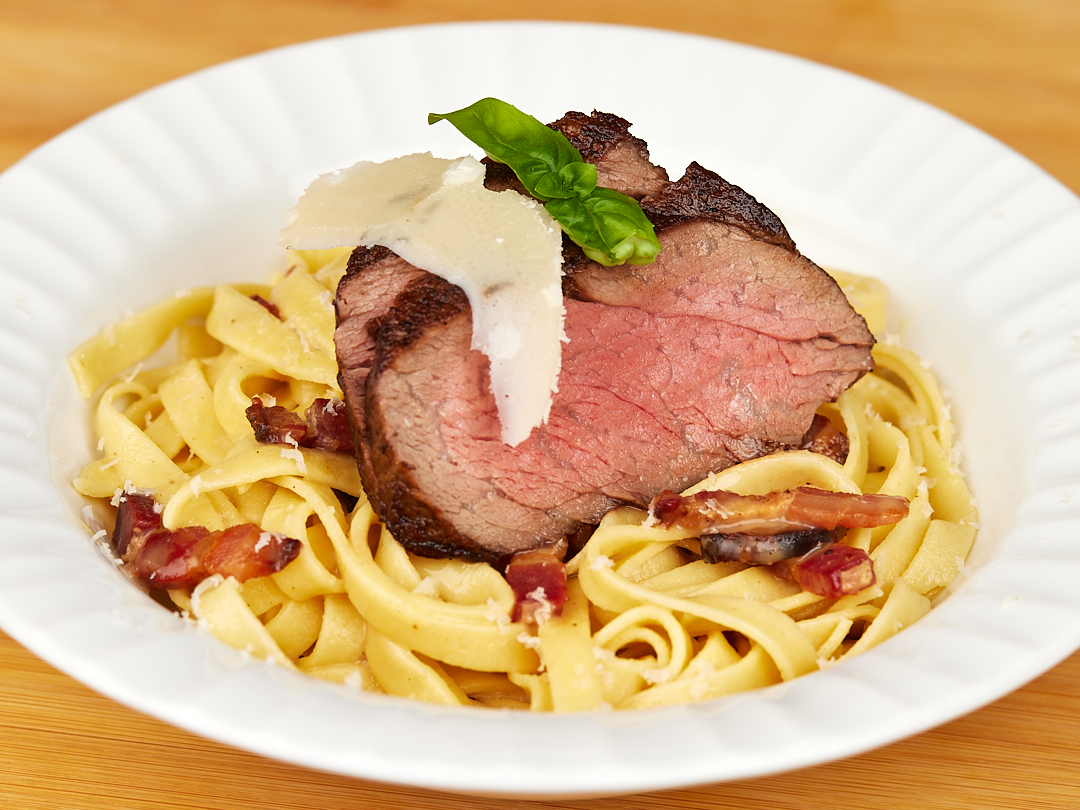 Ingredients
| Amount | Ingredient | Calories | Link |
| --- | --- | --- | --- |
| 6 oz. | Beef Tenderloin | 426 | Buy Fresh! |
| 1/8 tsp. | Kosher Salt | 0 | |
| 1/8 tsp. | Black Pepper | 1 | |
| 1 tbps. | Olive Oil | 1909 | |
| 3 oz. | Bacon | 454 | Buy Fresh! |
| 2 whole | Eggs | 156 | Buy Fresh! |
| 1 whole | Egg Yolk | 55 | Buy Fresh! |
| 1 oz. | Parmesan Cheese | 37 | |
| 1/8 tsp. | Kosher Salt | 0 | |
| 8 oz. | Fresh Pasta | 475 | Buy Fresh! |
Preparation
Today, we are keeping it simple, yet elegant. We are using the most tender cut of beef, beef tenderloin, and serving it with creamy pasta carbonara.
These steaks are also known as the filet mignon. Season the filet mignon steaks with kosher salt and freshly ground black pepper. Whisk 2 whole eggs and 1 egg yolk together and set aside.
When ready to cook, pre-heat the oven to 400 °F. Heat a cast iron pan on high heat and add 1-2 tablespoons of avocado oil. When the avocado oil begins to smoke sear the filet mignon steaks on both sides until a nice crust forms. During the sear baste the filets with butter and adjust the temperature as necessary to prevent the butter from burning.
Once the sear is complete place the cast iron pan with the filet mignon steaks into the pre-heated oven and cook for 5-7 minutes or until done. We prefer our steaks medium-rare (130 °F), however, adjust as necessary to suit your own taste. When your desired internal temperature is reached pull the steaks from the oven and place on a cooling rack allowing the filets to rest for at least 5 minutes before serving.
While the steaks are in the oven we'll prepare the bacon. Cook the bacon over medium heat until done. We prefer our bacon chewy rather than crispy. When done remove from heat and place on a paper towel to remove any excess grease.
Meanwhile, cook fresh homemade pasta in a pot of boiling water and a pinch of salt until done. Just before the pasta is finished, scoop a cup of pasta water from the pot and reserve for later use. Whisk the egg mixture with 1 ounce of grated parmesan cheese and set aside.
Transfer the cooked pasta to the sauté pan over low heat. Add the bacon and 1/2 cup of pasta water. The goal is to heat the ingredients sufficiently to use residual heat to finish the egg based sauce. Once the ingredients reach temperature remove from heat and let the pasta cool down for about 1 minute. When cooled add the egg mixture and stir the pasta continuously until the cheese is melted and the eggs thicken to form a glossy smooth sauce. Season with salt and freshly ground black pepper.
Divide the pasta among serving bowls and top with grated parmesan cheese and sliced fillet mignon. Serve and enjoy.
Parings
Filet mignon steaks paired with pasta carbonara go amazingly well with a Syrah or Cabernet Sauvignon.
Nutrition
One fillet mignon steak with 4 ounces of carbonara pasta is approximately 822 calories.

Recommended Serving Size: 3 oz. steak, 4 oz. pasta with sauce (Approximately 822 cal.)
Total Servings: Approximately 2
Items Used
Below are a few of the items used to create the finished result. The curated items below and ingredients above have been carefully selected and represent what we believe to be the best balance between quality and cost.