2021-04-14 10:29:42
Seattle, WA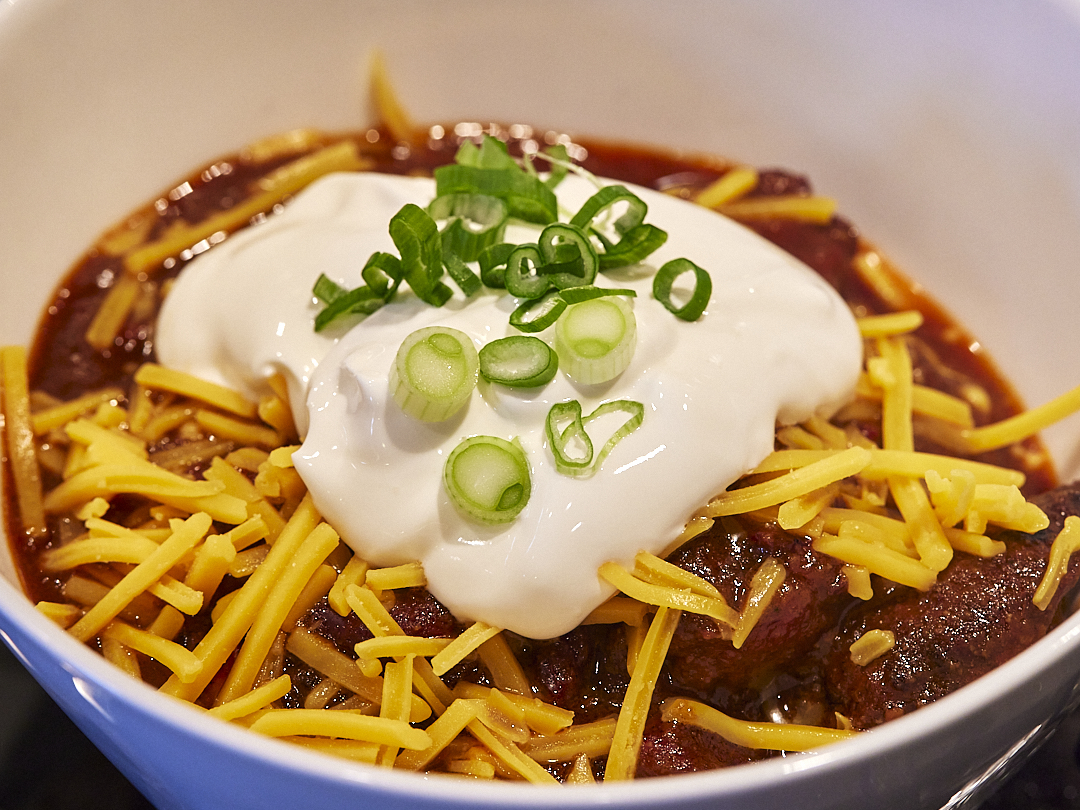 Ingredients
| Amount | Ingredient | Calories | Link |
| --- | --- | --- | --- |
| 1 lbs. | Chuck Roast | 1339 | Buy Fresh! |
| 1 tbsp. | Olive Oil | 120 | |
| 2 cups | Yellow Onion | 128 | Buy Fresh! |
| 3 tbsp. | Chili Powder | 66 | |
| 2 tbsp. | Ground Cumin | 47 | |
| 2 tbsp. | Sugar | 96 | |
| 2 tbsp. | Tomato Paste | 47 | Buy Fresh! |
| 1 tbsp. | Garlic Powder | 13 | |
| 2 tsp. | Kosher Salt | 0 | |
| 1 tsp. | Black Pepper | 7 | |
| 1/2 tsp. | Cayenne Pepper | 2 | |
| 2 cups | Beef Broth | 22 | |
| 15 oz. | Diced Tomatos | 44 | Buy Fresh! |
| 15 oz. | Kidney Beans | 1417 | Buy Fresh! |
| 8 oz. | Tomato Sauce | 65 | Buy Fresh! |
Preparation
Chop the chuck roast into 1 inch cubes. Over high heat sear the chuck roast until a nice crust is formed. Empty the pot into a bowl and set aside.

Dice an onion and add to the pot with olive oil. Cook the onions until translucent. When complete empty the pot into a bowl and set aside.

Add the beef broth and deglaze the pot. When complete reduce the heat to medium and add the chuck roast, onions, chili powder, cumin, sugar, garlic powder, kosher salt, freshly ground black pepper, cayenne pepper, tomato paste, diced tomato, tomato sauce, and kidney beans. When the chili begins to bubble reduce the heat and simmer for 2-4 hours.

The chili is done when the chuck roast is fork tender and the sauce coats a spoon. Serve in a bowl with your favorite toppings.
Nutrition
A 2 cup portion is approximately 427 calories.

Recommended Serving Size: 2 cups (Approximately 427 cal.)
Total Servings: Approximately 8
Items Used
Below are a few of the items used to create the finished result. The curated items below and ingredients above have been carefully selected and represent what we believe to be the best balance between quality and cost.