2021-07-04 08:58:21
Seattle, WA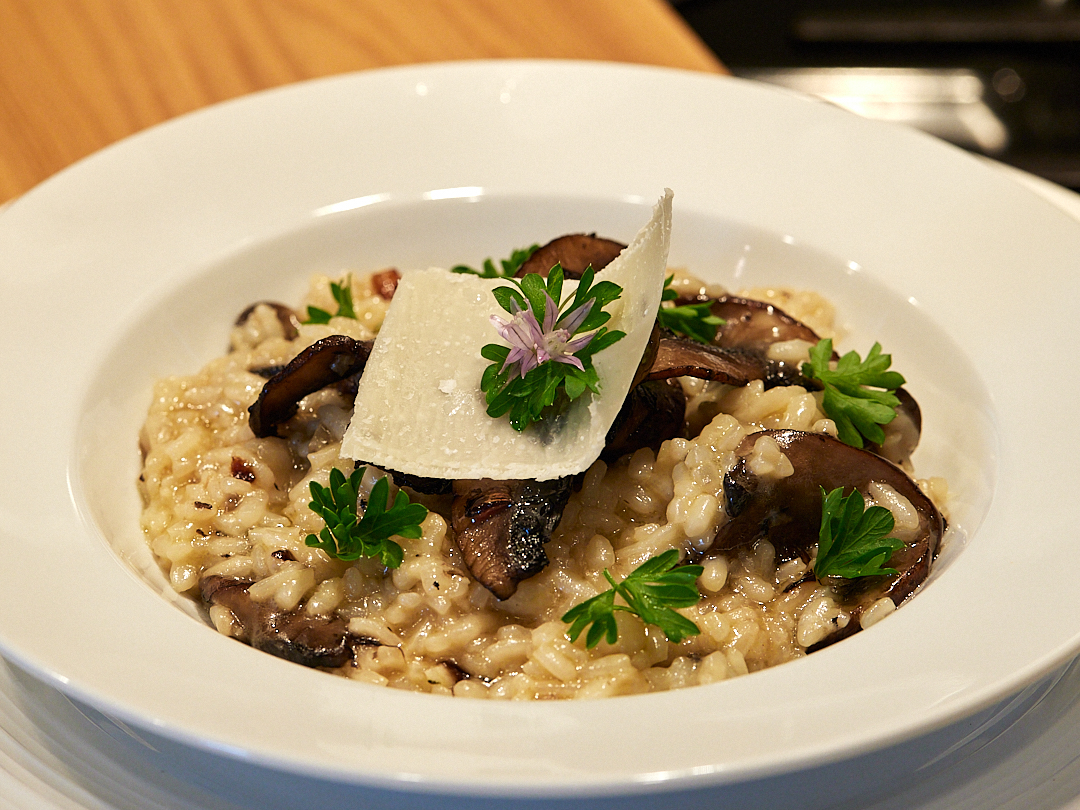 Ingredients
| Amount | Ingredient | Calories | Link |
| --- | --- | --- | --- |
| 2 tbsp. | Olive Oil | 239 | |
| 2 oz. | Shallot | 15 | Buy Fresh! |
| 1/2 cup | White Wine | 103 | Buy Fresh! |
| 1 cup | Arborio Rice | 5 | |
| 3 cups | Chicken Broth | 129 | |
| 1 whole | Portabella Mushroom | 0 | Buy Fresh! |
| 1 clove | Garlic | 203 | Buy Fresh! |
| 1 tbsp. | Butter | 102 | Buy Fresh! |
| 1/8 tsp. | Kosher Salt | 0 | |
| 1/8 tsp. | Black Pepper | 1 | |
| 1 cup | Parmesan Cheese | 581 | |
Preparation
Place a pan over medium heat and add the olive oil. Dice the shallots and set 1/2 aside. Sweat the remaining shallots until done then add the garlic and portabella mushrooms sliced. When the mushrooms are tender remove from heat and set aside.

In a separate sauce pan, bring the chicken stock to a simmer. We'll want to keep the chicken stock hot during our preparation.

Place the empty pan back over medium heat and add the remainder of the shallots you set aside earlier with olive oil. Sweat the shallots. When done add the Arborio rice and toast gently. Don't skip this important step as it's needed to provide the right consistancy.

After a minute of toasting add the white wine and let reduce. For the next 15-25 minutes we'll be adding, 1/4 cup at a time, the chicken stock. The goal is to let the rice and stock simmer and reduce. Pay careful attention to not let the pan go dry or you'll burn the rice. As the risotto begins to thicken add another 1/4 cup of stock and continue stirring.

Continue this process until the Arborio rice becomes tender. Some prefer a bite to it, others like it creamy. The fun part of cooking is you get to make it the way you enjoy! Once you reach the desired consistancy, add the kosher salt, freshly ground black pepper, butter, and grated parmasan cheese. Stir to incorporate all of the ingredients.

Next add the mushrooms you set aisde earlier and stir until well incorporated. Season to taste and plate. Garnish and enjoy!
Nutrition
This recipe makes about 4 servings. A single cup of risotto only has about 345 calories.

Recommended Serving Size: 1 cup (Approximately 345 cal.)
Total Servings: Approximately 4
Items Used
Below are a few of the items used to create the finished result. The curated items below and ingredients above have been carefully selected and represent what we believe to be the best balance between quality and cost.